HCM City considers int'l cooperation a great support: city leader
Thursday, 13:40, 27/01/2022
Ho Chi Minh City always considers international cooperation and the presence of the diplomatic missions in the country's biggest hub in the south as a great resource that needs to be respected and promoted, Chairman of the municipal People's Committee Phan Van Mai has affirmed.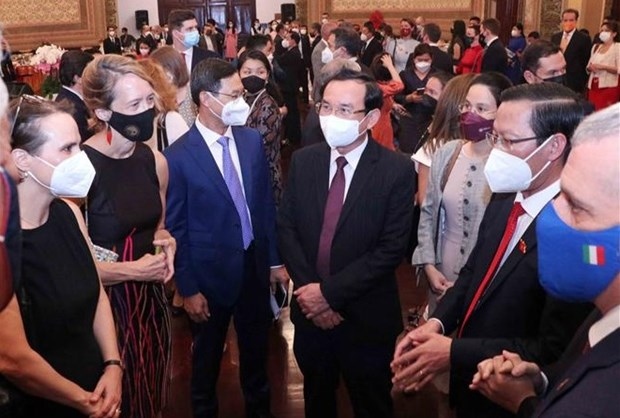 Mai made the confirmation at his meeting with consul generals, chief representatives of international organisations, economic-cultural organisations, and business communities of countries and territories in the city on January 26 on the occasion of the approaching Lunar New Year (Tet).

According to him, the city experienced 2021 with many difficulties and challenges, as the COVID-19 pandemic had a heavy impact on all socio-economic fields. However, it has to date put the pandemic under control and well implemented the policy of "safe and flexible adaptation to, and effective control of the COVID-19 pandemic". Those achievements come from the combination of many factors, including the important contribution of the foreign diplomatic missions.

The city leader extended his sincere thanks to consulates, international organisations, economic-cultural offices, and business associations of countries and territories for having always accompanying with and supporting the city in all circumstances, thus contributing to the pandemic fight and economic recovery of Vietnam and the city.

He pledged that the municipal administration will focus on further consolidating relationships with partners, effectively implementing signed international commitments, and promoting international cooperation projects.
Martin Maier, Swiss Consul General and also Head of Consular Corps in Ho Chi Minh City, said that its top goal is to create favourable conditions for high-level visits, organise programmes to promote economic, cultural, scientific and technical development.

The consular offices are committed to continuing to support and strengthen cooperation with Ho Chi Minh City, to well perform the role of connecting the metropolis with the expat community in the city as well as businessmen and tourists for a mutually beneficial partnership.
On this occasion, the People's Committee of Ho Chi Minh City awarded certificates of merit to several consulates, international organisations, economic-cultural offices, and foreign business associations for their contributions to the city's fight against the COVID-19 pandemic.