Gathering marks 70 years since establishment of diplomatic ties with Poland
Friday, 17:35, 04/12/2020
VOV.VN - The Vietnam-Poland Friendship Association came together with the Vietnam Union of Friendship Organizations (VUFO) on December 4 to hold a meeting to celebrate the 70th anniversary of Vietnam-Poland diplomatic relations after they were first established in 1950.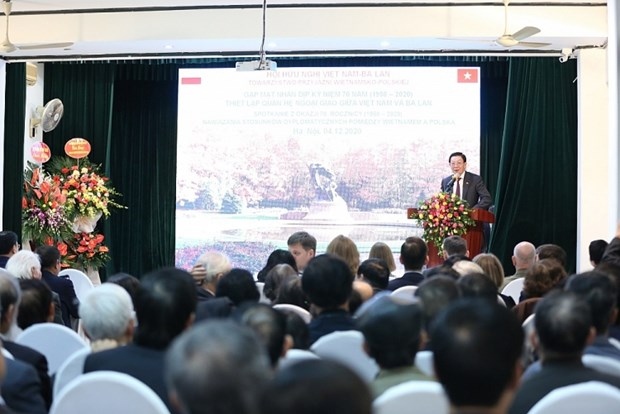 During his speech at the event, Nguyen The Thao, chairman of the Vietnam-Poland Friendship Association, stated that the Eastern European country was one of the earliest countries to formally recognise and establish diplomatic relations with the Democratic Republic of Vietnam. Indeed, they remained steadfast in their support for the nation during the course of two wars of resistance for the cause of national independence and defence, followed by a period of national construction.
Recent years has seen the relationship between both sides move from strength to strength through various exchange visits by the leaders of the two countries, as can be seen through co-operation schemes between the two sides in economics, culture, education, and citizen diplomacy.
At present, the Vietnamese community residing in Poland is made up of between 40,000 and 50,000 people, representing one of the largest Vietnamese communities throughout Europe. With a hard-working nature coupled with creative dynamism, the community has made positive contributions to socio-economic development of the Eastern European nation.
Thao went on to say, "Over the past 70 years, despite the ups and downs, the relationship and friendship between the two countries and the two peoples have remained good."
On behalf of the Vietnam - Poland Friendship Association, Thao pledged his best efforts to further nurture ties of friendship and co-operation between the two countries moving forward.
In response, Poland's Ambassador to Vietnam Wojciech Gerwel said that the event offers both nations the chance to reminisce about the past whilst also evaluate the state of current and future bilateral relations.
During the 2019 to 2020 school year, there were a total of 525 Vietnamese students studying in Poland, he said, while hoping that this figure will increase over the coming years. Ambassador Gerwel also thanked the Vietnamese Government and people for supplying his nation with medical equipment during the early phase of the novel coronavirus (COVID-19) pandemic.
As part of the occasion, the Vietnam-Poland Friendship Association awarded certificates of merit to individuals with achievements in terms of the development of people-to-people relations between both sides as well as in the Association's activities.