Elite youngsters motivated to become Party members
Thursday, 10:40, 03/02/2022
VOV.VN - Resolution 25 of the 10th Party Central Committee on "Strengthening the leadership of the Party on youth affairs during a period of accelerated industrialization and modernization" is set to have at least 70% of new Party members admitted from Youth Union.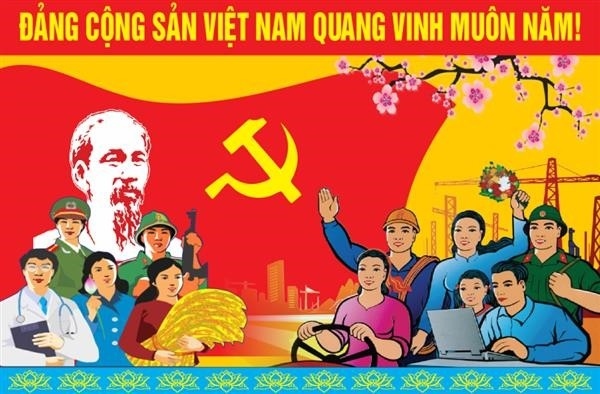 A number of elite youth union members in high schools and universities have been trained to become Party members to ensure the Party's inheritance and development. This model has nurtured young people's love for the Party and sowed "red seeds" for the future.
Students entering high school receive future-oriented sessions to help them identify their goals and develop their strong points.
In addition to the learning orientation, they learn about the history and traditions of the Communist Party of Vietnam and revolutionary role models. They can also approach criteria to become Party members.
Le Nguyen Trong Xuan, a 12th grader of Nguyen Van Cu school, Gia Lam district, Hanoi, said, "Youth Union members and I are proud to attend the Party admission training course for elite Youth Union members. Teachers tell us about the development history of the Communist Party of Vietnam and Ho Chi Minh Thought. We'll try to improve ourselves to soon become Party members and contribute our intellect to national development."
To train high-school or first-year university students for Party admission is to motivate them to strive harder during their time at school to generate a foundation for them to pursue their goals and ideals to contribute to society in the future.
Party admission is an honor for individuals and inspires other students. Vu Thi Thanh of Ninh Binh province said it took her many years to become a Party member since she was at high-school to university. This year Thanh has the honor of being one of the first-year students of Hanoi Open University to be admitted to the Party.
"We feel very honored and proud to stand in the ranks of the Party. I am determined to strive harder than other friends in studying, improving morality, and actively participating in Youth Union's movements," Thanh said.
It's easy to see that young Party members are more in words and actions than their peers. In order to be able to stand in the ranks of the Party, they had to go through a process of continuous learning, training, and perfecting themselves with the companionship and support of the Youth Union and Party organizations at the school and locality.
Many Party members, who joined the Party when they were in high-school or university, have flourished and held important positions at organizations and administrative agencies.
Doctor Vu Quang Dang of Ha Dong Traditional Medicine Hospital noted, "As young doctors, we always pioneer in medical examination and treatment as well as scientific research and application of new techniques. We are active in COVID-19 treatment at the hospital and at home."
The Communist Party of Vietnam places young people at the center of its human resource strategy and considers them a vanguard force and reliable reserve team.
The Party puts a sincere trust in the youth and promotes their potential and role in poverty reduction and building a prosperous, civilized Vietnam.
From 2016 to 2021, more than 1.1 million elite Youth Union members were admitted to the Communist Party of Vietnam.
They have continued to promote their role, enthusiasm, and will to rise up. The results come from a persistent process to train elite Youth Union members.