State President extends X-mas greetings to Catholics in Hanoi
Thursday, 15:29, 23/12/2021
VOV.VN - State President Nguyen Xuan Phuc on December 23 visited and presented gifts to the Catholic Church of the Hanoi Archdiocese on Christmas and New Year 2022.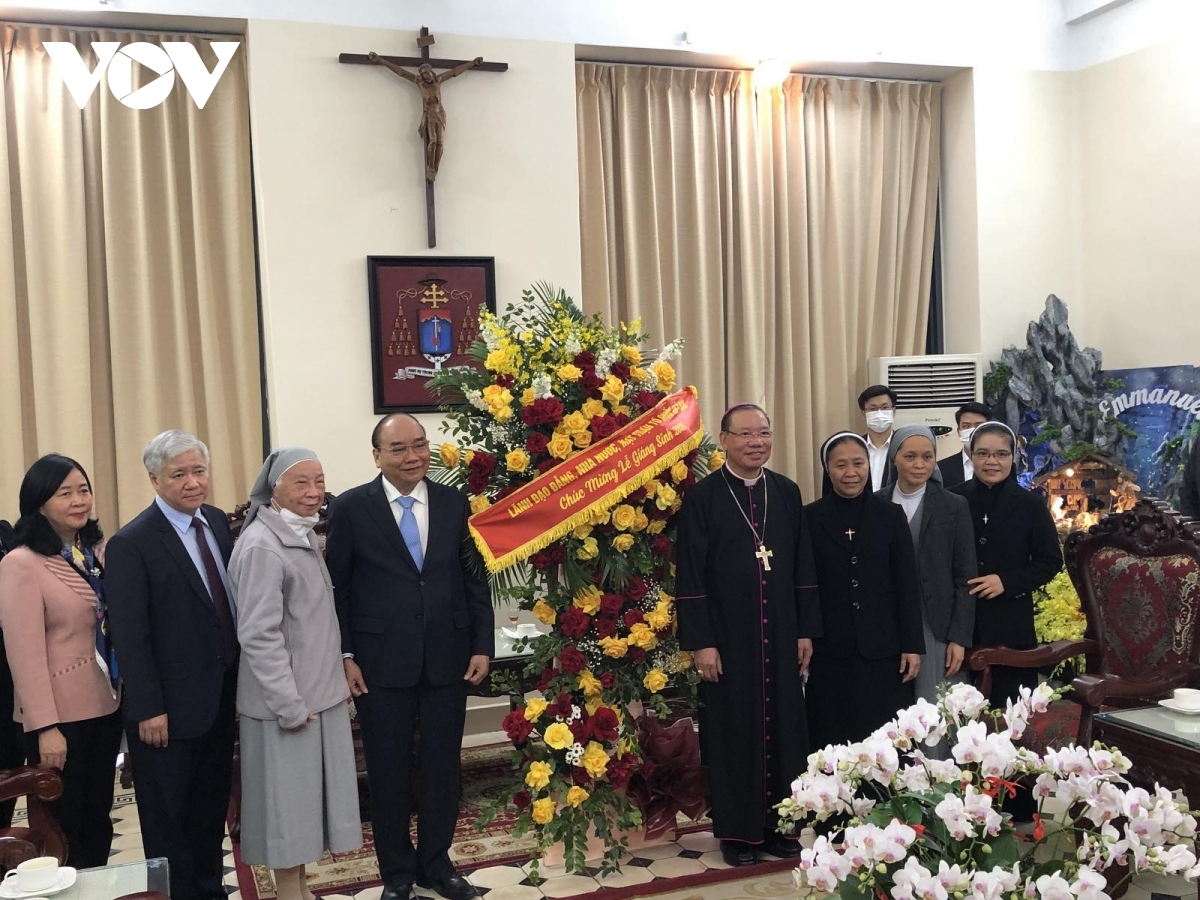 President Phuc extended Christmas greetings to Joseph Vu Van Thien, Archbishop of the Hanoi Archdiocese and Deputy Secretary General of the Catholic Bishops' Conference of Vietnam, as well as priests and religious followers of parishes in Hanoi.
He noted despite the negative impact of the COVID-19 pandemic, Vietnam has still recorded important achievements in socio-economic development, national defense, security, foreign affairs and international integration. The results were partly contributed by the Catholic community across the country, including the Archdiocese of Hanoi, he said.
The President said he is happy to see Catholics nationwide have always accompanied their compatriots in national construction and defense, and at the same time live the Gospel. He praised Catholics for joining hands with forces in COVID-19 prevention and control, and affirmed that the Party and State always guarantee the people's right to freedom of region and belief according to the Constitution and law.
He expressed his belief that Archbishop Joseph Vu Van Thien will continue to lead and encourage Catholics to build the diocese and make more practical contributions to socio-economic development in Hanoi and the country as a whole.
Archbishop Joseph Vu Van Thien said the Catholic community and the Archdiocese of Hanoi in particular are making efforts to implement the letter of the Catholic Bishops' Conference of Vietnam in the spirit of 'Living the gospel in the heart of the nation for the happiness of the compatriots' and instructions of the Pope that 'Good Catholics are also good citizens'.
The Catholic community will continue to actively engage in socio-economic development activities, and contribute to the cause of national construction and development, he said.
The same day, President Phuc visited and extended Xmas greetings to leaders of the Committee for Solidarity of Vietnamese Catholics.