Efficient, effective law making, enforcement critical to national development: PM
Wednesday, 22:14, 23/12/2020
Efficient and effective law making and enforcement is the first and foremost prerequisite to promoting national development, Prime Minister Nguyen Xuan Phuc told a national teleconference on December 23.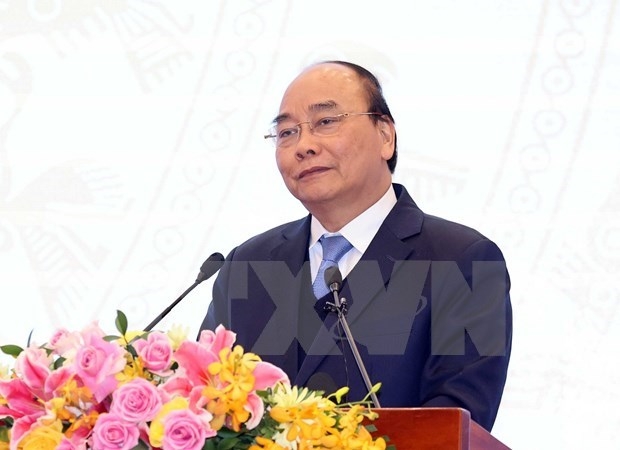 A report delivered at the teleconference, held to launch judicial tasks for 2021 and set up orientations for the next five years, noted that the entire judicial sector has exerted efforts to fulfil assigned tasks, greatly contributing to the country's socio-economic, defence-security, and diplomatic achievements.

After the Government issued Resolution No 01 and No 02/NQ-CP at the beginning of 2020, the Ministry of Justice (MoJ) swiftly issued and carried out its action plan to tackle difficulties and obstacles facing judicial work, thereby continuing to promote the sector's role from the central to local levels.

The PM said legislation is an important foundation for national construction and development, noting that the country's legal system has been further completed in all fields, which has helped it post positive socio-economic results.

With their high sense of responsibility and effort, the MoJ and the judicial sector have fulfilled all assigned tasks, thus not only winning the trust of the National Assembly and the Government in law-making and enforcement but also establishing themselves as sources of solid support for ministries, sectors, and localities when dealing with any emerging legal issues.

Pointing out certain problems in judicial work, the PM said the MoJ and the judicial sector will hold growing levels of responsibility in the time ahead, which requires they better perform their role in providing consultancy on law making and enforcement.

They need to press on with implementing the tasks and solutions identified in the PM's Directive No 43 on perfecting the legal system and improving the quality of law enforcement, so as to ensure that the legal system is consistent, synchronous, feasible, open, transparent, stable, and highly efficient and effective, centres on people's rights and legitimate interests, and facilitates innovation and digital transformation, he added.

The Government leader requested that overlaps and inconsistencies in the legal system be removed, policy corruption and group interests prevented, public services improved more strongly, the MoJ and judicial agencies' apparatus re-organised towards a lean, efficient, and effective apparatus, IT application stepped up, and inspections increased.

He also asked the judicial sector to continue investing resources and wisdom in helping the Government and all-level People's Committees deal with legal issues during socio-economic development and the international integration process, including the settlement of international investment disputes.