Distortions of Vietnam's religious freedom refuted
Sunday, 07:42, 27/06/2021
VOV.VN - The US Department of State released last month its 2020 International Religious Freedom Report which stated that some religious groups in Vietnam are not recognized by the State and are bothered, intervened, or restricted by local authorities.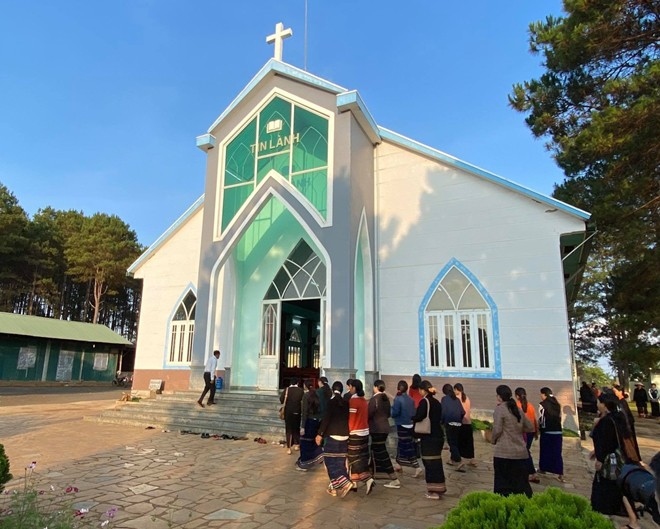 This non-objective statement on Vietnam's religious freedom was based on inaccurate information about the situation in Vietnam.
The US State Department's Report produced some more positive assessment of Vietnam's religious freedom but still contained many inaccurate, biased, and non-objective  assertions about the practice of religious activities in Vietnam. The distortions are intended to sabotage the Vietnamese Party and State and split Vietnam's national unity.
In fact, the right to freedom of belief and religion is protected in Vietnam. There are more than 8,500 annual religious festivals nationwide. Vietnam has 53 religious  training establishments. 80% of its 20,000 religious worshipping establishments have been upgraded. The grant of land use certificates for religious worshipping establishments complies with the law.
HCM City allocated 7,500 sq meters of land to the Protestant Church of Vietnam (southern), to build a Bible Institute. Thua Thien-Hue province allocated 20 ha of land to the Vietnam Buddhism Academy in Hue. Da Nang city allocated 6,000 sq meters to the Vietnam Catholic Mission Society. Hanoi allocated the Vietnam Buddhist Shangha 11 ha of land to build the Vietnam Buddhism Academy in Hanoi. Religious organizations are allowed to publish documents to serve religious activities.
Since 2013, nearly 6,000 religious publications have been published and more than 19 million documents have been printed. Many publications are in English, French, ethnic language. Religious organizations are operating 15 newspapers and magazines and their own websites. The right to freedom of religion and belief of ethnic minority people is protected. The Vietnam Buddhist Sangha built the Khmer Southern Sect Buddhism Academy in Can Tho city. The sutras of religious organizations are allowed to be published in 13 ethnic minority languages. In 2020, 5,000 bibles were published in the E De language and 3,000 in the Jrai language.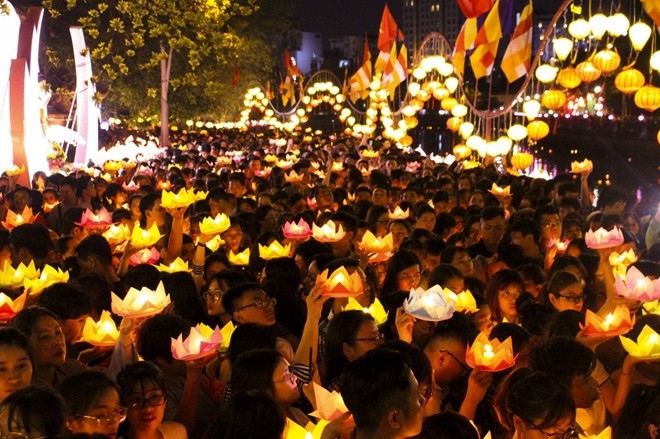 Religious organizations have expanded international cooperation. Hundreds of Vietnamese religious organizations and dignitaries participate in religious activities overseas while many foreign religious dignitaries visit Vietnam every year. Many international religious festivals have been organized in Vietnam. They include the World Dominican Congregation Festival, the 100th anniversary of Protestantism in Vietnam, and UN Vesak Day which drew more than 1,600 delegates from 112  countries and territories, 250 overseas Vietnamese from 40 countries, and more than 20,000 Buddhist dignitaries and followers.
Vietnam now has more than 25 million religious followers, 27% of the total population. 43 religious establishments of 16 religions are recognized by the State, 10 more religions and 28 more organizations since the Ordinance on Belief and Religion took effect. By 2020, there were approximately 580,000 Protestant followers of 33 Protestant sects and 183 Protestant churches in the central highlands region while in the north, there are more than 250,000 Protestant followers.
Religious followers are free to practice their religion at home or at worshiping establishments that have registered with the local administration. Religious organizations operate in line with the Constitution and regulations and are allowed to publish their documents, upgrade and build worshipping establishments, and expand their practices and international activities. There is no religious conflict in Vietnam. Religions live in harmony with each other and with the rest of the nation. Religious dignitaries and followers actively participate in social, humanitarian and poverty reduction activities and contribute to national development.
The reality of freedom of religion and belief in Vietnam is a strong counter to the distortions that attempt to sabotage the Vietnamese government, State, and national unity.