Vietnam, Venezuela hold political consultation in Hanoi
Friday, 22:54, 08/07/2022
VOV.VN - Deputy Foreign Minister Ha Kim Ngoc of Vietnam and his Venezuelan counterpart Capaya Rodriguez co-hosted the ninth political consultation in Hanoi on July 7.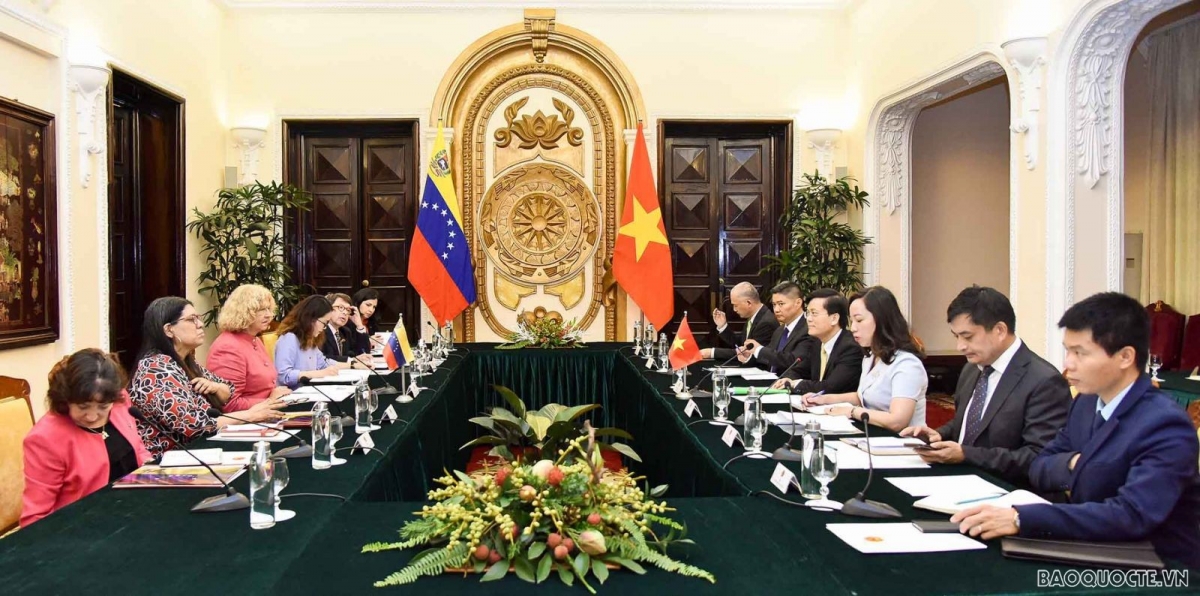 At the meeting, the two sides informed each other about the situation in their respective countries, and discussed measures to develop the Vietnam – Venezuela relations in a more substantive and effective manner.
They also exchanged views on regional and international issues of mutual concern, affirming their support for the settlement of international disputes through diplomatic and peaceful means on the basis of international law.\
During the visit, the Venezuelan Deputy Foreign Minister had a meeting with Foreign Minister of Vietnam Bui Thanh Son who asserted that Vietnam attaches importance to the traditional friendship and good cooperation, as well as the framework of the comprehensive partnership between Vietnam and Venezuela.
Son suggested that the two sides continue to promote the exchange of delegations at all levels and further strengthen bilateral trade and investment relations, including removing obstacles in two existing cooperation projects on oil and gas and agriculture.
He also suggested that the two sides maintain and bring into full play the mechanism of political consultation between the two foreign ministries and the mechanism of the Intergovernmental Committee meeting.
Deputy Minister Capaya Rodriguez highly appreciated the achievements the two countries have recorded in all-round cooperation over the years, especially in politics - diplomacy, and people-to-people exchanges, while giving mutual support at multilateral organizations, such as the United Nations.
He especially expressed the respect and affection of the Venezuelan leaders and people for President Ho Chi Minh of Vietnam and appreciated the great achievements Vietnam has obtained in socio-economic development, international integration as well as in the COVID-19 fight and economic recovery.
The Venezuelan diplomat also met with leaders of several ministries and sectors of Vietnam.
Rodriguez is in Hanoi for a visit from July 6 – 10 to mark 15 years of the Vietnam – Venezuela diplomacy this year.