Vietnam, Thailand mark 45 years of bilateral diplomacy
Friday, 19:10, 22/10/2021
VOV.VN - The Consulate General of Vietnam in Khon Kaen (Thailand) in collaboration with the administration of Nakhon Phanom province hosted a ceremony on October 22 celebrating 45 years of diplomatic relations between Vietnam and Thailand.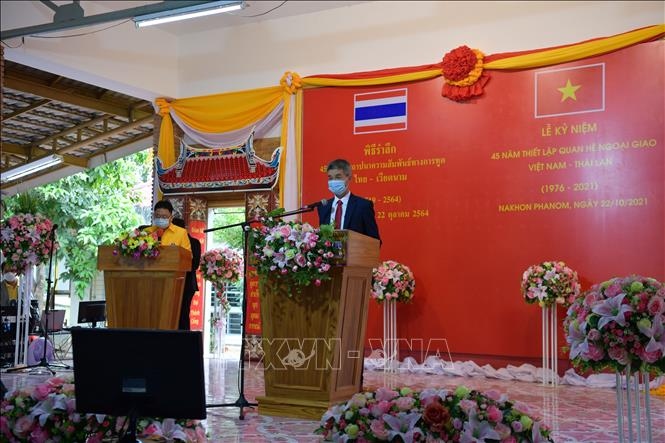 Addressing the event, Vietnamese Consul General in Khon Kaen Chu Duc Dung affirmed the bilateral relations have developed in various areas since the establishment of diplomatic ties 45 years ago.
Thailand is the largest trading partner of Vietnam in Southeast Asia. It is the ninth largest foreign investor out of 139 countries and territories investing in Vietnam. It is also Vietnam's fourth largest tourism market in Southeast Asia and the 10th in the world.
Dung recalled the May 2021 phone talks between the two countries' Prime Ministers during which the two sides pledged to raise bilateral trade value to US$25 billion by 2025.
"I firmly believe that with high political trust, consensus and efforts from both sides, the Vietnam-Thailand cooperation relationship will enter into a new stage of more effective and substantive development moving forward," said the diplomat.
Chathip Ruchanaseri, Governor of Nakhon Phanom province, noted that the ceremony vividly manifests the growing relationship and fruitful cooperation between the governments and people of the two countries. He expressed his belief that both Thailand and Vietnam will jointly develop their long-standing friendship for future generations.
At the ceremony, the general association of Vietnamese born Thai people donated THB250,000 (US$7,500) to renovate Vietnamese President Ho Chi Minh's memorial site in May village, Nakhon Phanom province.