Vietnam prioritises developing relations with Mozambique in Africa
Monday, 16:05, 20/06/2022
VOV.VN - Mozambique is one of the five African countries Vietnam prioritizes promoting political-diplomatic relations and economic cooperation with at present and in the future.
National Assembly Chairman Vuong Dinh Hue was speaking during his high-level talks with his Mozambican counterpart Esperanca Laurinda Francisco Nhiuane Bias in Hanoi on June 20.
Hue suggested that the two sides further strengthen the exchange of delegations at all levels and through all channels, while making the best preparations for the fourth meeting of the Intergovernmental Committee of the two countries to review and promote post-pandemic cooperation.
He agreed with his guest that the economic and trade cooperation between the two countries remains modest, at US$157 million in 2020 and US$149.5 million in 2021. To raise the figure, Hue suggested both countries encourage their businesses to conduct market surveys and participate in international expos along with exchanging information about policies, regulations and procedures related to import and export, trade and investment cooperation opportunities.
Vietnam wishes to import coal, LPG, common metals (copper, lead, tin...), raw cashew nuts, cornmeal and steel scrap from Mozambique, he said, suggesting that Mozambique facilitate the import of key Vietnamese products such as rice, machinery, equipment and supplies for agriculture and fisheries, medical equipment and supplies for epidemic prevention and control, iron and steel, household utensils, processed foods, seafood, footwear and garments.
He thanked Mozambique for supporting the operation of Movitel, a telecom joint venture between Viettel of Vietnam and SPI of Mozambique, and expected that Mozambique would create favourable conditions for the JV to operate more efficiently in the country.
National Assembly Chairman Vuong Dinh Hue thanked Mozambique for supporting Vietnamese medical and educational experts in working in their resident country, and affirmed Vietnam is willing to continue providing scholarships to Mozambican students to study in the areas of their need in Vietnam.
Vietnam is ready to strengthen medical cooperation and share experiences to develop health, community health care, traditional medicine, disease prevention and control with Mozambique, he said.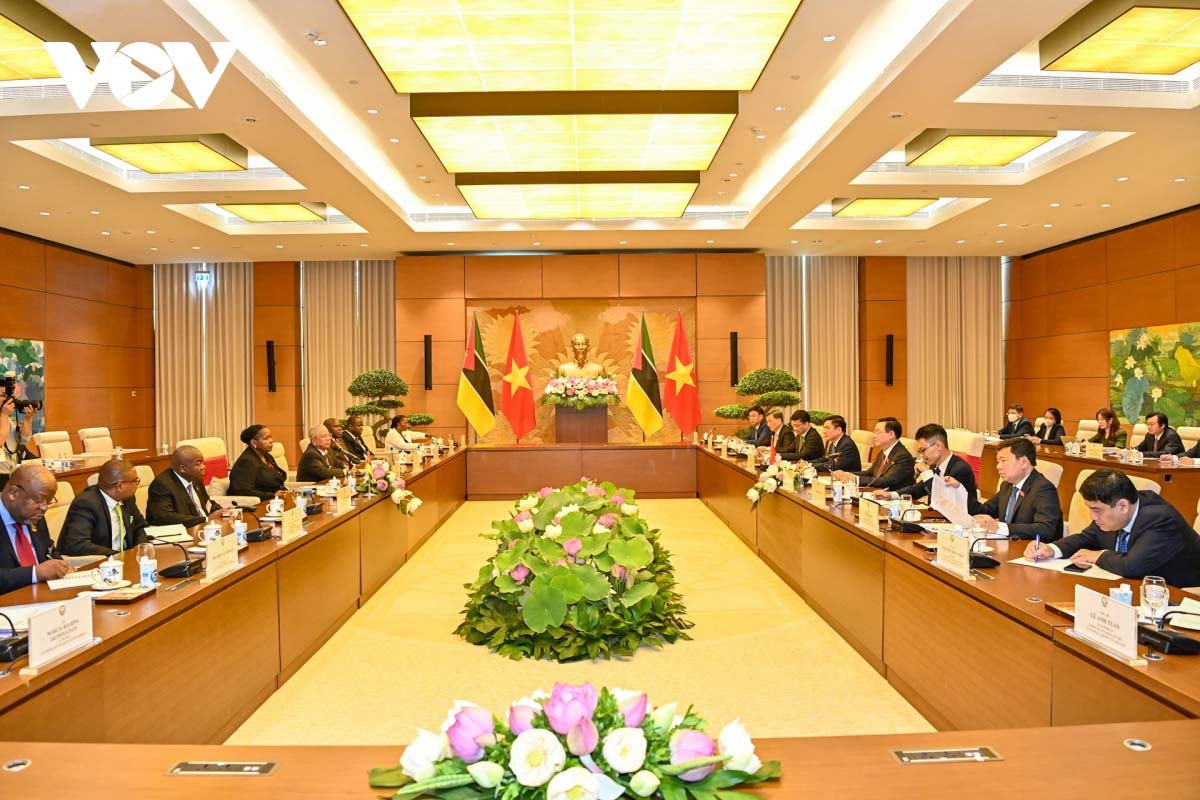 With regard to cooperation between the two legislatures, Hue said that parliamentary cooperation plays an increasingly important role in relations between countries around the world both bilaterally and multilaterally. He affirmed that he would make every effort to promote legislative cooperation to become more and more substantive, including the exchange of visits at all levels.
Mozambican Assembly President Esperanca Laurinda Francisco Nhiuane Bias agreed that, the memorandum of understanding signed between the two legislatures the same day would serve as an important legal basis for the two sides to strengthen and expand cooperation in the coming time.
She said her official visit to Vietnam is not only to strengthen the relationship between the two legislatures but also to promote economic cooperation between the two countries. Both Vietnam and Mozambique have developed various cooperation models in the fields of education and agriculture. Especially, she said there are many Vietnamese enterprises engaging in telecommunications and agriculture in Mozambique.
During this visit, she said she will have the opportunity to meet Vietnamese businesses to examine the possibility of expanding bilateral economic cooperation.
At the end of the talks, Assembly President Esperanca Laurinda Francisco Nhiuane Bias cordially invited National Assembly Chairman Vuong Dinh Hue to pay an official visit to the Republic of Mozambique soon. NA Chairman Vuong Dinh Hue happily accepted the invitation.