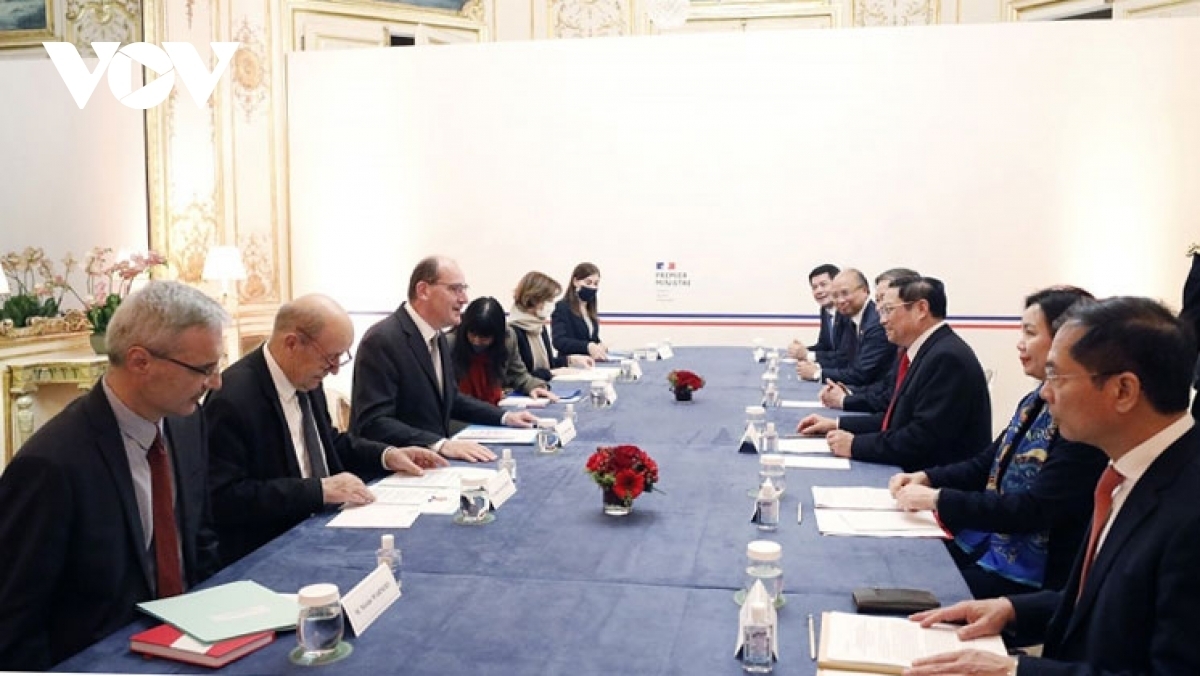 The joint statement was released on Prime Minister Pham Minh Chinh's Nove,ber 3-5 official visit to France where he held talks with French Prime Minister Jean Castex and met with President Emmanuel Macron and other senior French leaders.
Vietnam highly appreciates the role of France and the European Union (EU) in the Indo-Pacific, as well as their strategies affirming the interest in the region.
Vietnam supports international efforts in strengthening the rules-based international system and responding to global challenges, laying a firm foundation for a rapid, equitable and steady economic recovery.
Meanwhile, France emphasizes the importance of the ASEAN Indo-Pacific Outlook (AIPO).
Vietnam and France share close views on many major regional and international issues, including security, health and sustainable development.
The two sides reaffirm their determination to strengthen economic, trade and investment cooperation to support economic recovery. They plan to hold a high-level economic dialogue in January 2022, if conditions permit, to outline specific cooperation areas.
They also agree to strengthen bilateral cooperation in the fields of legislation, agriculture, industry, aviation, tourism, seaport infrastructure development, health care, education, science-technology, energy, and urban traffic development,  
The two sides reaffirm their determination to give new impetus to defence cooperation within the framework of the bilateral strategic partnership. They will soon hold strategic dialogues between their Ministries of Foreign Affairs and Ministries of Defence to work out a framework of cooperation in this field.
Vietnam and France will work towards enhancing the Vietnam – EU and EU – ASEAN partnerships within the framework of the EU's Indo-Pacific strategy and during France's EU Presidency in the first half of 2022.
They reaffirm their full respect for the 1982 United Nations Convention on the Law of the Sea (UNCLOS), as well as peaceful settlement of sea-related disputes. They underscore the importance of maintaining safety and freedom of navigation and overflight in all seas and oceans, especially in the East Sea, in according to international law.
The two sides welcomed ASEAN's central role in supporting dialogue, cooperation and international law. They voice their strong support for ASEAN and China's efforts in fully and effectively implementing the Declaration on the Conduct of Parties in the East Sea (DOC) and soon achieving an effective Code of Conduct in the East Sea (COC), in accordance with international law, especially the UNCLOS.
Both countries attach importance to cooperation between their localities, considering this a pillar in bilateral cooperation. They plan to hold the 12th Vietnam – France decentralized cooperation conference in Hanoi later this year.