Vietnam expands cooperation with Auvergne-Rhône-Alpes
Saturday, 11:31, 11/06/2022
VOV.VN - Vietnamese Ambassador to France Dinh Toan Thang made a working trip to the Auvergne-Rhône-Alpes region on June 9-10, seeking to strengthen post-pandemic cooperation with the French region.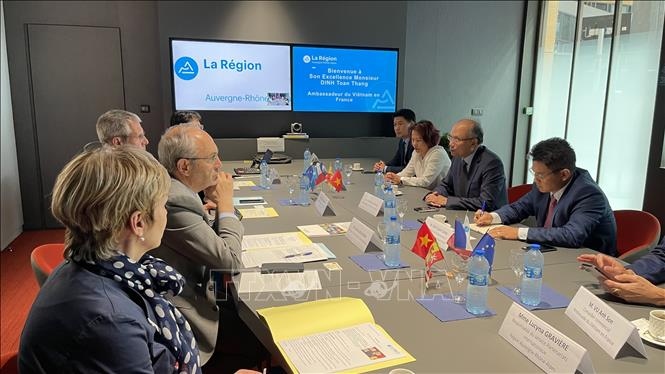 Welcoming the ambassador, Philippe Meunier, vice president of the Regional Council of Auvergne-Rhône-Alpes, hailed the positive results of cooperation in urban planning, public lighting, health care, and education – training between the French region and Vietnamese localities such as Dong Nai and Ho Chi Minh City.
The Auvergne-Rhône-Alpes region wishes to expand cooperation with Vietnamese localities in the fields of environmentally friendly green infrastructure, energy, medicine, as well as cooperation within the framework of the Francophonie, he said.
The French official called on Vietnamese localities to join the International Association of Francophone Regions (AIRF) and to attend Pollutech 2023 – Europe's leading international exhibition on the environment.
During a meeting at the Lyon Chamber of Commerce and Industry (CCI Lyon), Philippe Valentin, president of CCI Lyon, emphasized that many member businesses of CCI Lyon such as Thuasne and Boehringer Ingelheim are currently doing very successful business in Vietnam. He expressed his desire to increase cooperation in the areas of strength of Lyon businesses and according to the needs of Vietnamese partners.
Meanwhile, talking to Ambassador Dinh Toan Thang, Bruno Bernard, president of the Lyon Metropolis, discussed the possibility of cooperation with Vietnamese localities in urban planning to meet climate change challenges. He also shared experiences in post-pandemic tourism development associated with raising awareness and strengthening health safety measures to encourage tourists to extend their stay, limit travel transfer and reduce emissions.
Speaking at these meetings, Ambassador Dinh Toan Thang affirmed that expanding cooperation between Vietnamese and French localities is to meet the needs of both sides for a 'win-win' relationship. The Ambassador called on partners of the Auvergne-Rhône-Alpes region to participate in the 12th Vietnam - France Conference of Decentralised Cooperation to be held in Hanoi in early December 2022, to deepen their mutually beneficial cooperation.
During his stay, Ambassador Dinh Toan Thang visited a number of local businesses that have cooperation programs and projects with Vietnam such as Confluence Museum, BioMerieux, AirLiquide, Laboratoire Aguetta, and Sanofi.