Vietnam, Cambodia exchange greetings on 55 years of diplomacy
Thursday, 23:38, 23/06/2022
VOV.VN - Top Vietnamese and Cambodian leaders have exchanged greetings to mark 55 years of diplomatic relations between the two countries and the Vietnam – Cambodia Friendship Year 2022.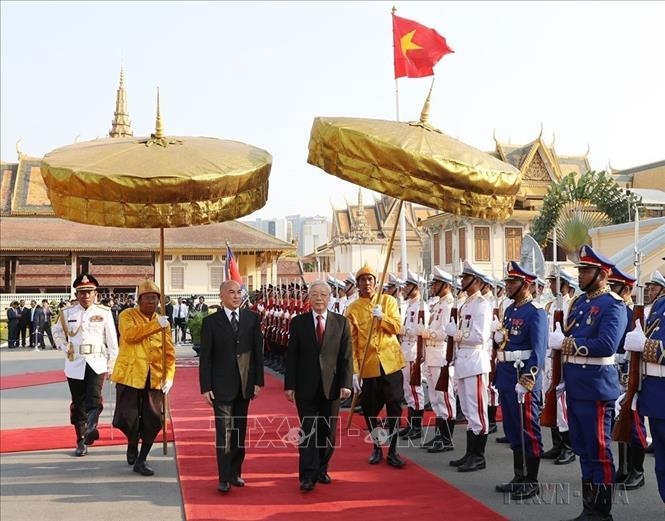 In their congratulatory letters, the Vietnamese leaders noted that despite ups and downs of history, the peoples of Vietnam and Cambodia have always united, stood shoulder to shoulder, and given each other support and assistance in their past struggle for national liberation and the present cause of national construction and development, as well as international integration.
They affirmed that the long-standing friendship between the two countries is an invaluable asset that needs to be preserved and cultivated in the future.
They expressed their belief that the good neighborliness, traditional friendship, comprehensive and sustainable cooperation between Vietnam and Cambodia will continue to be consolidated and developed, for the common interests of the two peoples, for peace, stability, cooperation and development of the ASEAN Community as well as in the region and the rest of the world.
The Vietnamese leaders congratulated Cambodia on the great and comprehensive achievements that it has recorded in the past decades, especially in disease control, recovery and socio-economic development in recent times.
They firmly believed that with the tradition of resilience, diligence and creativity, the people of Cambodia would obtain new and greater achievements, successfully building a peaceful, stable, independent and prosperous Cambodia with an increasingly high position in the international arena.
In their congratulatory letters, Cambodian leaders expressed their belief that the Cambodia - Vietnam relations will continue to develop strongly, deeply and comprehensively in various fields, both bilaterally and multilaterally, especially within ASEAN.
They congratulated Vietnam on the great achievements it has recorded in national socio-economic development and international integration, helping elevate its role and position regionally and globally. They expected Vietnam would continue to win more victories and fulfill the goal of becoming a developed and high-income economy by 2045.