Vietnam attends ASEAN Connectivity Coordinating Committee meeting
Monday, 21:51, 18/04/2022
VOV.VN - Ambassador Nguyen Hai Bang, head of the Vietnamese Delegation to ASEAN, attended the first meeting of the ASEAN Connectivity Coordinating Committee (ACCC) at the headquarters of the ASEAN Secretariat in Jakarta (Indonesia).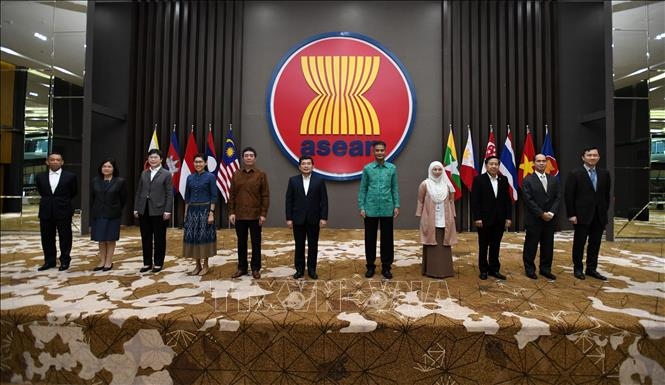 The meeting acknowledged the positive progress in the implementation of all five strategic areas and 14 out of 15 initiatives of the ASEAN Connectivity Master Plan 2025 (MPAC 2025).
Notably, the project 'Assessment of Future Sustainable Infrastructure Trends and Priorities in a Post-Pandemic' and the project 'Enhance ASEAN Tourism Digital Platforms' are expected to be completed in June 2022.
Delegates held that the projects and activities of the MPAC 2025 have been making active contributions to the implementation of the ASEAN Comprehensive Recovery Framework and the building of the ASEAN Community's Post-2025 Vision.
The meeting also discussed preparations for the fourth annual report of the MPAC 2025, and the 13th ASEAN Connectivity workshop later this year.
In the coming time, they said ASEAN will focus resources and lobby partners to support and promote projects in strategic fields, including promoting sustainable infrastructure construction, developing data on trade routes, building Open ASEAN data, developing ASEAN digital platforms, improving vocational training and developing ASEAN human resources.
They emphasized the need to strengthen information dissemination about the content and benefits of the MPAC 2025, and continue to promote the communication strategy of the MPAC 2025 in 2022.
ASEAN leaders, at the 28th ASEAN Summit in Laos in September 2016, adopted the Master Plan on ASEAN Connectivity 2025 with a vision of achieving a seamlessly and comprehensively connected and integrated ASEAN.
The ASEAN Connectivity Coordinating Committee was established to monitor, evaluate and periodically report to the ASEAN Coordinating Council.