Vietnam and Hong Kong eye US$50 billion trade by 2027
Saturday, 15:20, 19/11/2022
VOV.VN - Vietnamese State President Nguyen Xuan Phuc proposed Vietnam and Hong Kong (China) increase economic, trade and investment cooperation to raise their two-way trade to US$50 billion in the next five years.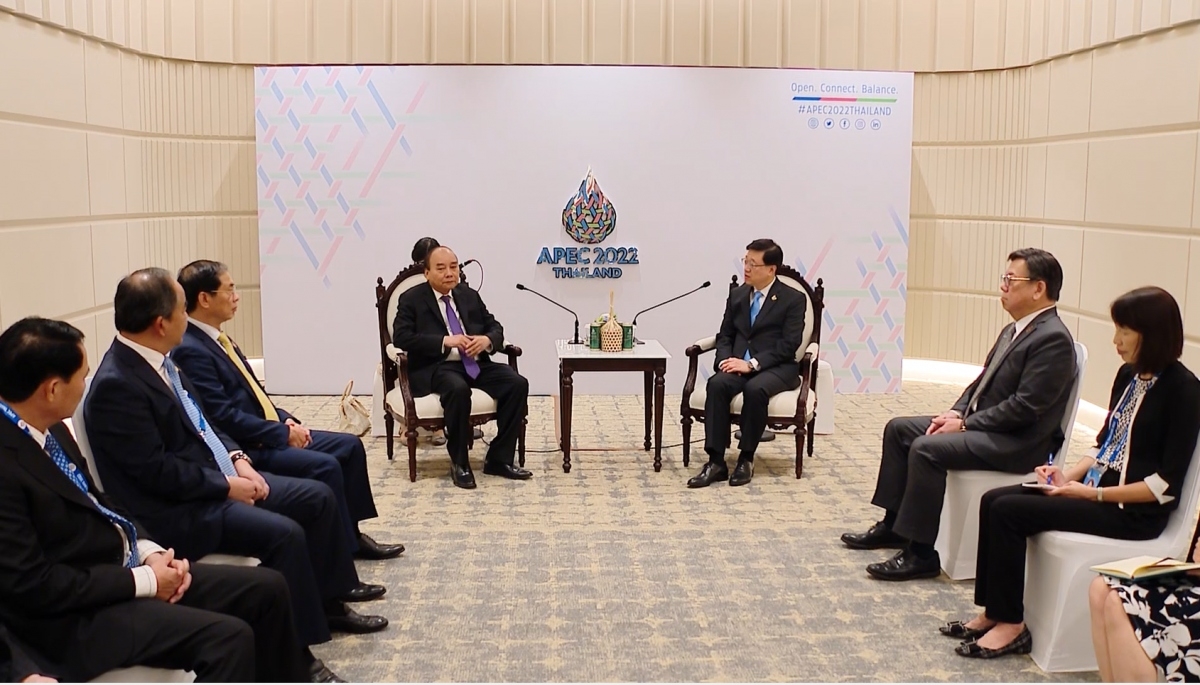 Phuc made the proposal while receiving Lee Ka-chiu, chief executive of the Hong Kong Special Administrative Region (China) in Bangkok on November 19 on the sidelines of the 29th APEC Economic Leaders' Meeting.
He encouraged Hong Kong businesses to invest in sustainable and environmentally friendly fields in Vietnam, and supported Vietnamese businesses to engage in trade, investment and tourism promotions in Hong Kong.
The President also hoped that the two sides would expand exchanges and cooperation in the fields of culture, education, tourism, as well as Hong Kong's reception of Vietnamese workers on a trial basis.
Lee, for his part, affirmed the Hong Kong Special Administrative Region government attaches great importance to and is willing to strengthen mutually beneficial cooperation with Vietnam in various fields.
He welcomed Phuc's US$5 billion trade proposal, saying if the target is met, Vietnam will become Hong Kong's largest trading partner in ASEAN. He also voiced his support for increasing people-to-people exchanges and cooperation in tourism, education, labour and other fields.
He also proposed that the two sides cooperate in immigration management.
While receiving International Monetary Fund (IMF) general director Kristalina Georgieva on the same day, President Nguyen Xuan Phuc highly appreciated the cooperation between Vietnam and the IMF over the past years, especially in the IMF's consultancy on macroeconomic management, structural transformation and growth model innovation.
He stated that, in the context of the global complications, including volatile market fluctuations, rising inflation and economic recession that affect food security and energy security, Vietnam, the IMF and other countries should strengthen coordination of policies and guidelines to effectively deal with those problems.
Georgieva for her part singled out Vietnam as a bright spot in terms of economic growth and stability in the region, saying the country has developed an open, dynamic and resilient economy through the COVID-19 pandemic.
She particularly praised Vietnam's efforts in accelerating economic structural reforms, and transitioning to a green, clean and sustainable growth model with a focus on renewable energy,
The IMF director hoped Vietnam would continue to contribute to the global agenda of transforming growth models and securing supply chains. She affirmed the IMF would provide continued support and advice for Vietnam in economic management and growth model innovation.
In the afternoon, President Nguyen Xuan Phuc left Bangkok for Hanoi, concluding his trip to Thailand and his participation in the APEC summit there.