US expects to lift relations with Vietnam
Saturday, 14:05, 02/04/2022
VOV.VN - The United States is set to expand its co-operation with Vietnam to raise bilateral relations to new heights, according to Derek Chollet, senior policy advisor to the US Secretary of State.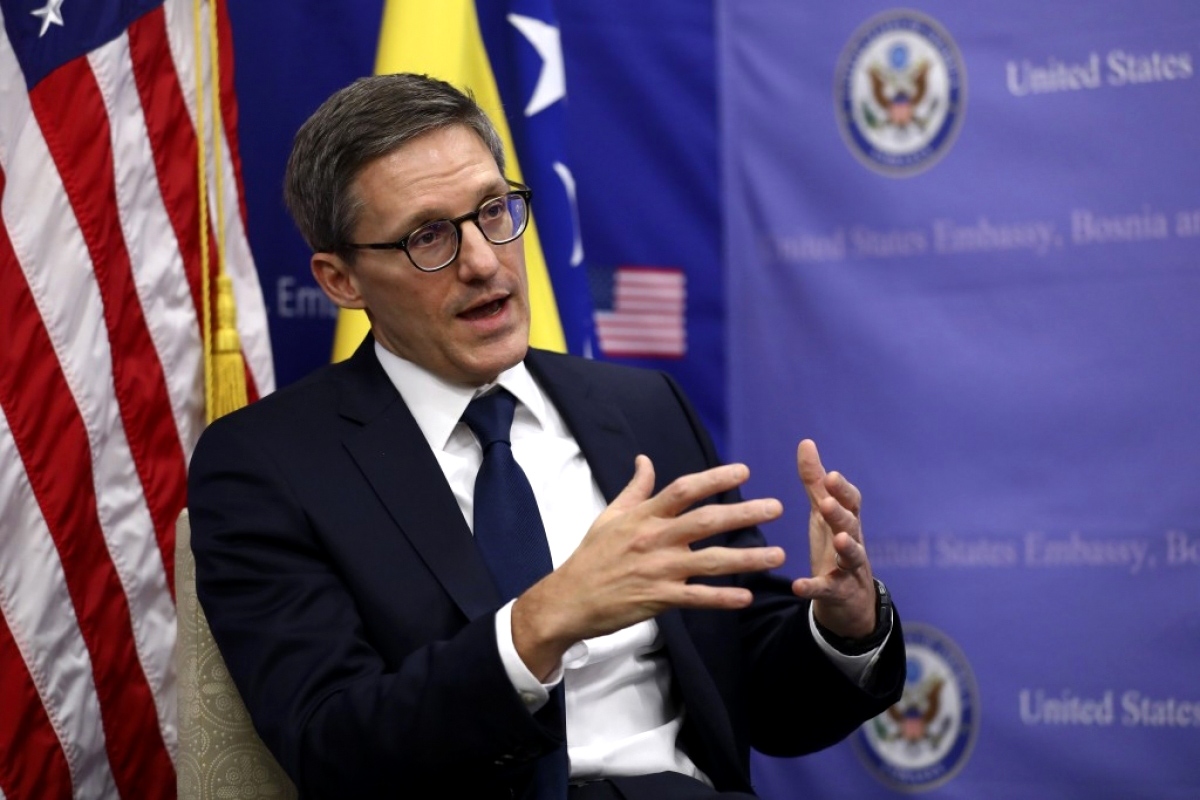 Chollet told media workers in Hanoi on April 1 evening that during his visit to Hanoi, he held meetings with representatives of various ministries and agencies to discuss bilateral co-operation in the fields of economy, trade, defence, application of technology, climate change adaptation, and COVID-19 prevention.
At present, the relationship between the two countries is developing substantially, and the US attaches  great importance to the relationship, along with the potential that exists to grow ties between the two countries, said Chollet.
He went on to expressed his impression of the country's outstanding development in recent times, whilst emphasising that the US consistently supports a strong, independent, and prosperous Vietnam.
Chollet stated that the US has so far donated 36 million doses of COVID-19 vaccines to Vietnam, and it will continue to support the country's post-pandemic recovery efforts in the health and economic sectors, clean energy development, and climate change adaptation.
All of these commitments duly fall within the economic framework set out in the Indo-Pacific strategy that US President Joe Biden had previously announced at the East Asia Summit in October 2021.
According to the senior policy advisor, the US views Vietnam as an important partner in the Asia-Pacific region, and this viewpoint was clarified by Vice President Kamala Harris during her trip to Vietnam in August 2021.
In relation to the Indo-Pacific strategy, Vietnam plays a central role in all areas, from politics and security to economy, technology, and climate.
During meetings held alongside representatives of Vietnamese ministries and sectors, Chollet said the two sides discussed measures to increase  bilateral and multilateral co-operation with other ASEAN countries and partners in the Indo-Pacific region for the cause of peace, stability, co-operation, and development. Among them was co-operation with Vietnam in overcoming the consequences of the past war.
With regard to the South China Sea issue, Chollet affirmed the US will continue to co-ordinate alongside its partners to ensure safety, freedom of navigation, and security in the waters, known as the East Sea in Vietnam, on the basis of respect for international law. He added that the US continues to oppose actions that could lead to escalating tensions in the South China Sea.
These comments come off the back of Chollet's Asian tour of the Philippines, Vietnam, and Japan from March 28 to April 2.
While staying in Hanoi, the US diplomat met with Foreign Minister Bui Thanh Son who proposed that both sides promote the exchange of high-ranking delegations, including a coming US trip by Prime Minister Pham Minh Chinh.
PM Chinh will attend an ASEAN-US Summit in Washington DC this year at the invitation of President Biden.