Promoting Vietnam – Thailand relations
Monday, 22:07, 09/05/2022
VOV.VN - Deputy Foreign Minister Pham Quang Hieu, who is in Bangkok for a working trip to Thailand, had a working session with Acting Secretary for Foreign Affairs of Thailand Sarun Charoensuwan on May 9.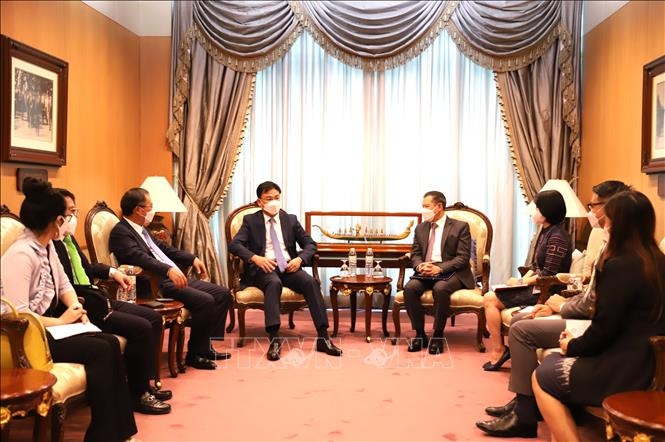 Hieu noted that despite the impact of the COVID-19 pandemic the relations between Vietnam and Thailand have still flourished through the flexible exchange of delegations and contact.  
Notably, he said the two countries held the fourth meeting of the Vietnam – Thailand Bilateral Cooperation Committee in November 2021 and the fourth meeting of the Vietnam – Thailand Trade Cooperation Committee in April 2022, recording substantive results.
Hieu suggested that Thailand speed up procedures to increase the import of Vietnamese agricultural products. At the same time, he said the two sides should soon recognize each other's vaccine passports, to further facilitate bilateral cooperation in investment, trade and especially tourism.
For his part, Charoensuwan suggested that the two countries work together to foster two-way trade, striving to reach the goal of US$25 billion by 2025. He also suggested that the Vietnamese Government pay attention to supporting Thai investment projects in the field of renewable energy.
The two sides agreed to effectively implement a Memorandum of Understanding (MoU) on cooperation between the two foreign ministries, including enhancing the exchange and sharing of experiences in the fields of digital diplomacy and public diplomacy.
The two Foreign Ministries should actively coordinate and soon arrange high-level visits, the fourth joint Cabinet meeting, and exchange mechanisms between the two Foreign Ministries as well as other ministries in 2022 in the context that the COVID-19 outbreak has been brought under control and both countries have reopened up their economies to the world, they said.
The Vietnamese diplomat thanked the Royal Family and the Government of Thailand for granting legal documents, creating favourable conditions for Vietnamese born Thais to do business, live stably and integrate into the Thai society, contributing to the development of Thailand as well as the relations between the two countries.
During his current working trip to Thailand, Deputy Foreign Minister Pham Quang Hieu, who is also chairman of the State Committee for Overseas Vietnamese Affairs, met representatives of Vietnamese expatriates in Bangkok and visited some of their economic establishments there.