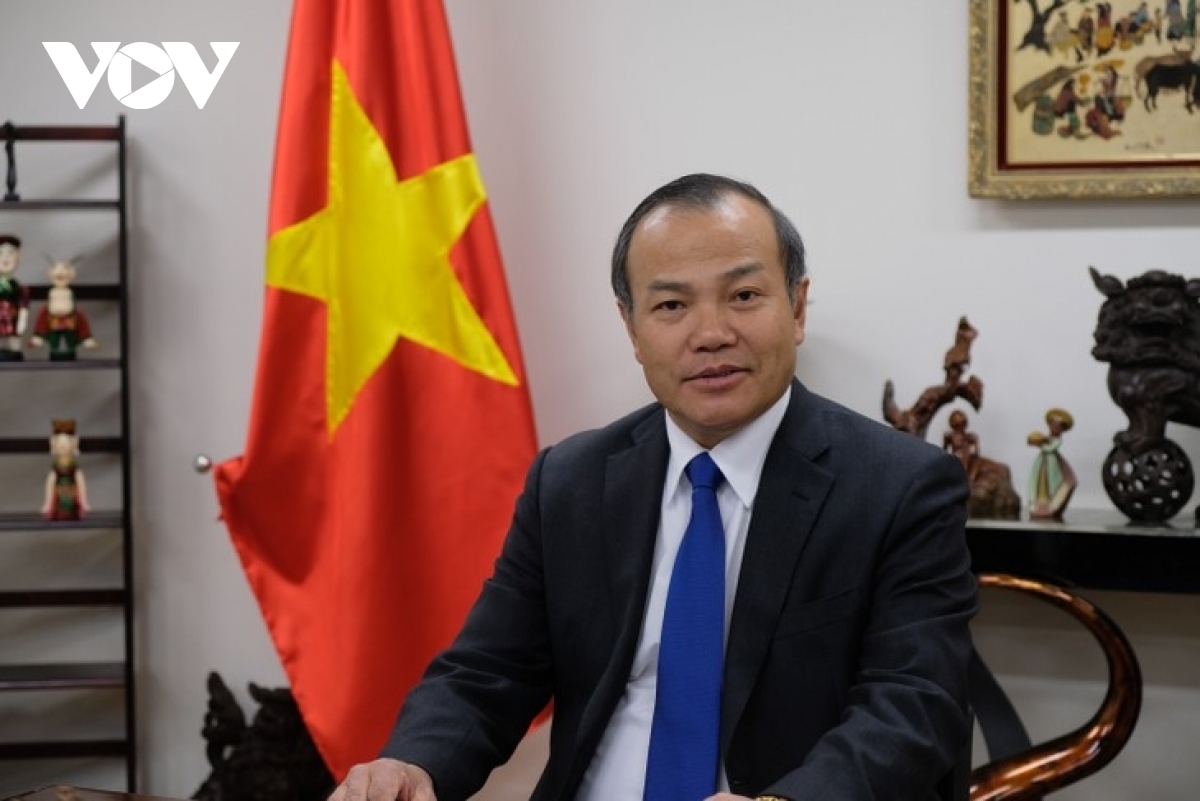 In an exclusive interview granted to Tokyo-based VOV correspondents, Ambassador Nam noted that bilateral relations have developed substantially in all fields over the years.
Politically, he said top leaders of the two countries have maintained their reciprocal visits to concritise bilateral cooperation. It is worthy of note that the then Prime Minister Nguyen Xuan Phuc visited Japan in 2019, and the then Prime Minister Yoshihide Suga visited Vietnam in 2020.
Defence and security cooperation has been strengthened through goodwill visits by Japanese naval ships. Japan has also welcomed Vietnamese trainees, considering them a realiable source of human resource for its development.
In addition, economic, trade and investment cooperation has been enhanced despite the impact of the COVID-19 pandemic, with many Japanese firms deciding to either maintain or expand operations in Vietnam.
Ambassador Nam said PM Chinh's Nov. 22-25 visit takes place at a time when the two countries have yet to reopen their borders due to the complicated nature of the COVID-19 outbreak.
"The visit is meant to break the 'iceberg' of the pandemic, showing the two counties' determination to overcome difficulties and move forward," said Ambassador Nam.
The two PMs will have more time to discuss a range of measures to expand the Vietnam – Japan cooperation in all areas, following their short meeting on the sidelines of the recent 26th UN Climate Change Conference in the United Kingdom.
A number of ministers and leaders of localities who accompany the PM will have the chance to meet their Japanese counterparts to explore deeper cooperation opportunities.
"The visit will also reaffirm the Vietnamese government's commitment that Vietnam remains a reliable destination for Japanese businesses," said the diplomat.
According to the ambassador, high on the agenda will be measures to expand trade and economic ties between the two countries in the post COVID period. The two sides will examine ways to make the most of free trade agreements to which both countries are signatories, such as the Comprehensive and Progressive Agreement for Trans-Pacific Partnership (CPTPP), and the Regional Comprehensive Economic Partnership (RCEP).
"The visit will give the two PMs the chance to realize their FTA commitments," said Ambassador Nam.
Political security is an important topic that will also be tabled for discussion as the recent times still saw conflicts arise in Southeast and Northeast Asia, including in the East Sea and the East China Sea, posing a threat to regional peace and stability.
"It's time for the two leaders to outline future bilateral cooperation, aiming to work alongside the international community to maintain peace and stability in the region," said the ambassador.
Furthermore, Ambassador Nam said, the two PMs will also touch upon measures to promote cultural exchanges, human resource cooperation, and student exchanges between the two countries.