National Assembly supports Boeing's expansion plans in Vietnam
Thursday, 18:35, 19/05/2022
VOV.VN - The National Assembly of Vietnam always supports and creates favourable conditions for Boeing as well as foreign enterprises to invest and do business in Vietnam, says NA Chairman Vuong Dinh Hue.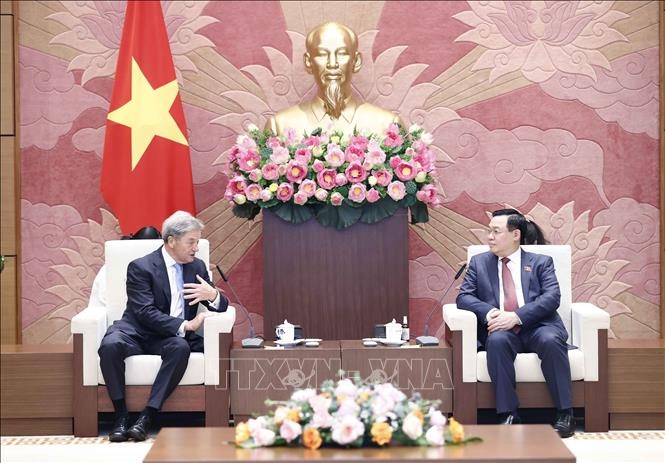 Receiving Senior Vice President of Boeing and President of Boeing International Michael Arthur in Hanoi on May 19, Hue highly appreciated the firm's operations in Vietnam and shared difficulties the aviation industry, especially large aircraft suppliers such as Boeing, has faced due to the impact of the COVID-19 pandemic over the past two years.
He expressed his belief Boeing would gather full steam after the pandemic, especially in Southeast Asia, including Vietnam.
Hue told his guest that the National Assembly and Government of Vietnam have adopted bailout packages until 2023 to support businesses, including the aviation industry, to cushion the impact of the COVID-19 pandemic and maintain pre-pandemic operations.
He welcomed the recent signing of a Memorandum of Understanding on restructuring and implementing a commercial contract to purchase 200 Boeing 737 aircraft between Boeing and VietJet Air. He suggested that Boeing continue to work with other airlines in Vietnam such as Vietnam Airlines and Bamboo Airways, share difficulties, and examine the possibility of amending business contracts to adapt to the new situation.
NA Chairman Vuong Dinh Hue also voiced his support for Boeing's plan to establish R&D and technical support centers in Vietnam.
For his part, Michael Arthur briefed his host on the strong economic recovery of the Americas, Europe and Southeast Asia, predicting that the aviation industry in Southeast Asia, especially Vietnam, would record strong growth in the next 20 years.
Arthur emphasized that the tourism industry plays an important role in socio-economic development of Vietnam, including the contribution of the aviation industry. Therefore, Boeing leaders have met with leaders of Vietravel Airlines and VietJet Air to seek ways to develop joint cooperation in the near future, as Vietnam is considered a potential market.
Vietnam was the first country where Boeing opened a representative office after the COVID-19 pandemic subsided, he said, adding the firm will continue to expand activities in Vietnam, including improving aviation capacity through training, upgrading aviation infrastructure, expanding supply chains and other services.