HCM City ceremony marks 55 years of Vietnam – Cambodia diplomacy
Wednesday, 16:31, 22/06/2022
VOV.VN - The administration of Ho Chi Minh City held a ceremony on June 22 to mark the 55th anniversary of the establishment of diplomatic ties between Vietnam and Cambodia.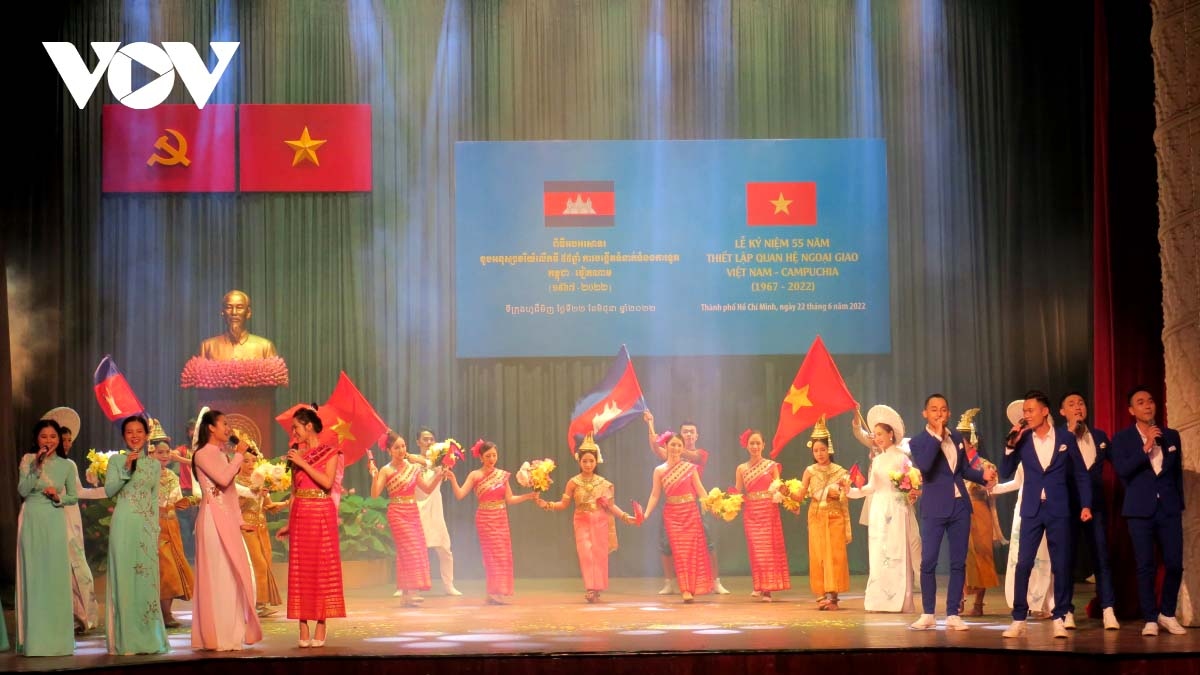 In his address, Phan Van Mai, head of the municipal government, reviewed the tradition of arduous struggle for independence, freedom and national reunification of the Vietnamese and Cambodian armies and people. The revolutionary armed forces of the two countries had coordinated to defeat enemy-led military campaigns, contributing to great victories in each country, including overthrowing the Pol Pot genocidal regime in Cambodia.
In that fierce battle, he said tens of thousands of Vietnamese volunteer soldiers, including those from Ho Chi Minh City, had laid down their lives in Cambodia. Thousands of Vietnamese officials, experts and soldiers had traveled to each village to help restore local economy, heal war wounds, and contribute to revitalizing Cambodia.
Highlighting the great cooperation achievements between the two countries in all fields, the HCM City leader emphasized that their political ties have constantly been tightened through frequent mutual visits by their senior leaders.
The authorities and people of Ho Chi Minh City always attach great importance to and actively contribute to the traditional friendship and comprehensive cooperation between the Governments and peoples of the two countries, he stressed.
He expressed his wish that Cambodian people would record more great achievements in national construction and development, and gradually elevate its position, contributing to stability, peace, cooperation and development in the region and the world at large.
Sok Dareth, consul general of Cambodia in Ho Chi Minh City, affirmed that Cambodia and Vietnam have treasured a long historical relationship, noting the two nations use the same Mekong River and share a land border of more than. thousand kilometers in length.
Cambodia's gains cannot be recorded without the sincere and loyal support and assistance of the Party, Government and people of Vietnam, he stressed.
Sok Dareth expressed Cambodia's gratitude to generations of Vietnamese leaders, former experts and volunteers for their assistance and support, and at the same time affirmed that both countries must work together to at all costs protect friendship, strengthen solidarity and develop the good relationship between the two countries.