Deputy PM receives Lao Finance Minister in Hanoi
Tuesday, 18:19, 26/07/2022
VOV.VN - Deputy Prime Minister Le Minh Khai on July 26 received Lao Finance Minister Bounchom Ubonpaseuth who is in Hanoi for an official visit to Vietnam.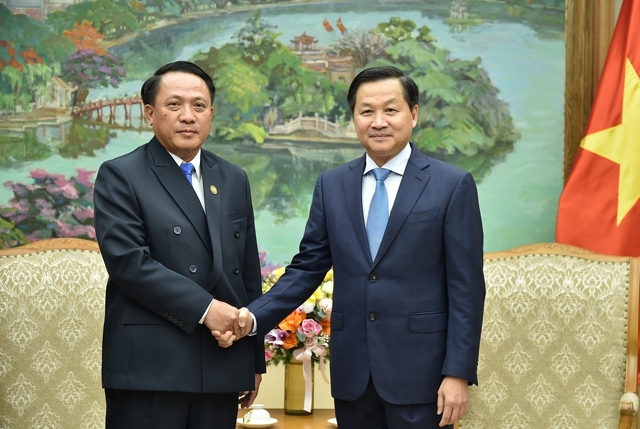 Khai welcomed Ubonpaseuth's visit which he said would contribute to the overall success of the Vietnam-Laos and Laos-Vietnam Friendship Year 2022.
He briefed his guest on Vietnam's major socio-economic development gains in the first six months of 2022, saying despite global complications including the Russia-Ukraine conflict, rising fuel prices and inflationary pressure, Vietnam recorded GDP growth of 6.42% and kept inflation at 2.44%.
He expressed his elation at the positive development of the special relationship between Vietnam and Laos, especially in financial cooperation, and expected that all-round cooperation including in finance between the two countries would be further enhanced in future.
For his part, Minister Ubonpaseuth briefed his host on the results of his earlier talks with Vietnamese Finance Minister Ho Duc Phoc, and suggested that Vietnam send experts to help Laos strengthen budget collection solutions, remove financial and monetary difficulties, boost e-business reform, and support domestic business development.
Deputy PM Khai shared Laos' difficulties and said Laos should use revenue sources in accordance with the law, well control foreign exchange, stabilize the currency exchange rate, and reasonably calculate the public debt to GDP ratio to ensure investment attraction and loan repayment.
The Deputy PM also suggested that as global fuel prices are decreasing, Laos should closely monitor the situation to have appropriate and practical solutions so as to improve the situation.