Australian trade minister welcomed in Hanoi
Tuesday, 18:28, 13/07/2021
VOV.VN - President Nguyen Xuan Phuc welcomed visiting Australian Minister of Trade, Tourism and Investment Dan Tehan in Hanoi on July 13, expressed his belief the visit will help strengthen bilateral cooperation, especially in economics and trade.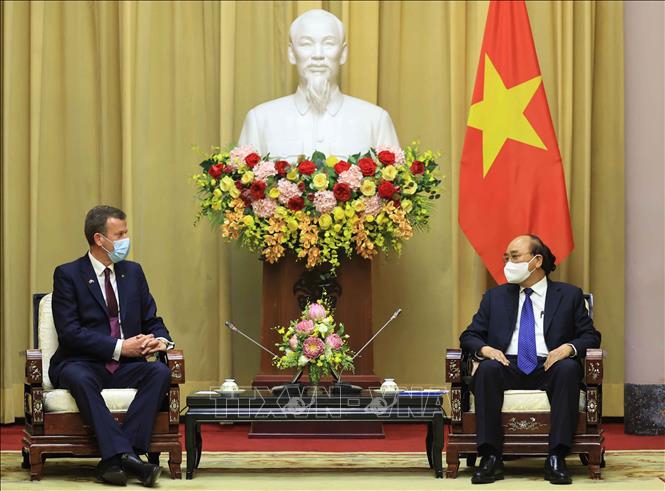 Phuc thanked the Australian Government for its commitment to grant Vietnam AUD40 million to access COVID-19 vaccines, and to donate 1.5 million doses of the Australian-produced AstraZeneca vaccine to Vietnam in the near future.
He noted that bilateral cooperation, especially in economics, investment and trade, has been strengthened since the lifting of the two countries' relations to a Strategic Partnership level in 2018.
Despite the impact of the COVID-19 pandemic, two-way trade between Vietnam and Australia has enjoyed impressive growth, reaching US$8.3 billion in 2020, an increase of nearly 5% year on year. In the opening five months of 2021, their trade value rose 41.1% to hit US$4.7 billion.
Both Vietnam and Australia are among each other's group of 11 largest trading partners. Australia is the 19th biggest foreign direct investor in Vietnam, injecting nearly US$1.92 billion into 526 projects in the country (updated in June 2021).
However, President Phuc said bilateral trade is yet on a par with the two countries' political trust, and suggested both sides promote bilateral cooperation and remove difficulties for their business communities.
He welcomed the results of earlier talks on the same day between the two countries' trade ministers, which focused on opening the market for agricultural products, facilitating the export of coal, iron ore, rare earth, liquefied natural gas (LNG) from Australia to Vietnam, promoting tourism cooperation, and strengthening technical assistance to Vietnam.
The President expressed his belief that the two sides will accelerate the implementation of the Comprehensive and Progressive Agreement for Trans-Pacific Partnership (CPTPP) and the Regional Comprehensive Economic Partnership (RCEP), providing fresh impetus for bilateral cooperation and bringing many benefits to business communities and people of the two countries.
Minister Dan Tehan said that his earlier talks on the same day with Vietnamese Minister of Industry and Trade Nguyen Hong Dien were a great success, and affirmed that he will make every effort to further connect cooperation plans between the two sides.