Danish Queen rejoices over flourishing Vietnam-Demark relations
Saturday, 16:14, 07/05/2022
VOV.VN - Queen Margrethe II of Denmark has expressed her satisfaction at the consistent improvement in ties between Vietnam and Denmark over the past five decades following both nations establishing diplomatic relations in 1971.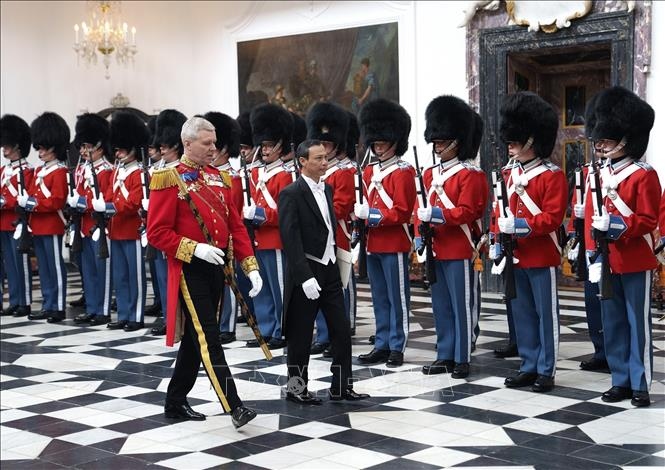 Vietnamese Ambassador to Denmark Luong Thanh Nghi presented the letter of credence from President Nguyen Xuan Phuc to Queen Margrethe II at Fredensborg Palace on May 6.
Both sides believe that mutual ties have recorded numerous achievements in all traditional fields, ranging from politics - diplomacy, economy - trade - investment, people-to-people exchanges, agricultural co-operation, education, and labour. This also includes new areas such as climate change response, renewable energy, green growth, and sustainable development.
Given the various achievements obtained over the past half century, Queen Margrethe II expressed her expectation that the relationship between the two countries will continue to reach new heights on a comprehensive and substantive basis in line with the interests between both sides.
Ambassador Nghi expressed his pleasure and honour at being appointed as the Ambassador of Vietnam to Denmark in the context of relations between the two countries recording many encouraging achievements across a multitude of fields of both sides' strengths and potential. This can be seen through the establishment of a strategic partnership in the fields of climate change, energy, the environment and green growth in 2011, as well as a comprehensive partnership in 2013.
The stable and sustainable development in the relationship between the nation and Denmark, demonstrates mutual trust and closeness in terms of benefits despite being far away in geographical distance.
The diplomat emphasised that the special affection that Queen Margrethe II and her Danish Royal family have for the country is a valuable asset and can serve as the basis for fostering a close-knit relationship between the two countries.
The Vietnamese Ambassador went on to affirm that he will do his utmost and look forward to receiving support from the Queen, the Royal Family, the Government, and the people of Denmark in deepening the relationship between the two sides in the near future based on the foundations nurtured by their leaders.
Furthermore, Ambassador Nghi also suggested that the Danish Government continue to pay close attention to create conditions for the community of more than 16,000 Vietnamese people residing in the European country to integrate deeply and make more practical contributions to improving friendly relations.
Ambassador Nghi used the occasion to respectfully convey regards and congratulations from President Phuc to the Queen, Royal Family, Government and people of Denmark on the occasion of the 50th anniversary of Queen Margrethe II's accession to the Danish throne.
The Queen therefore thanked the Vietnamese leaders and people for their good sentiment and attention, stating her wish that Ambassador Nghi has a successful working term with positive contributions made to propel the friendly relations between the two countries forward.