COP26 President impressed with Vietnam's energy conversion efforts
Friday, 09:54, 01/07/2022
VOV.VN - Alok Sharma, British Cabinet Minister and president of the 26th UN Climate Change Conference (COP 26), has stated how impressed he is with the nation's strong determination to promote clean energy conversion, renewable energy, wind power, and solar power.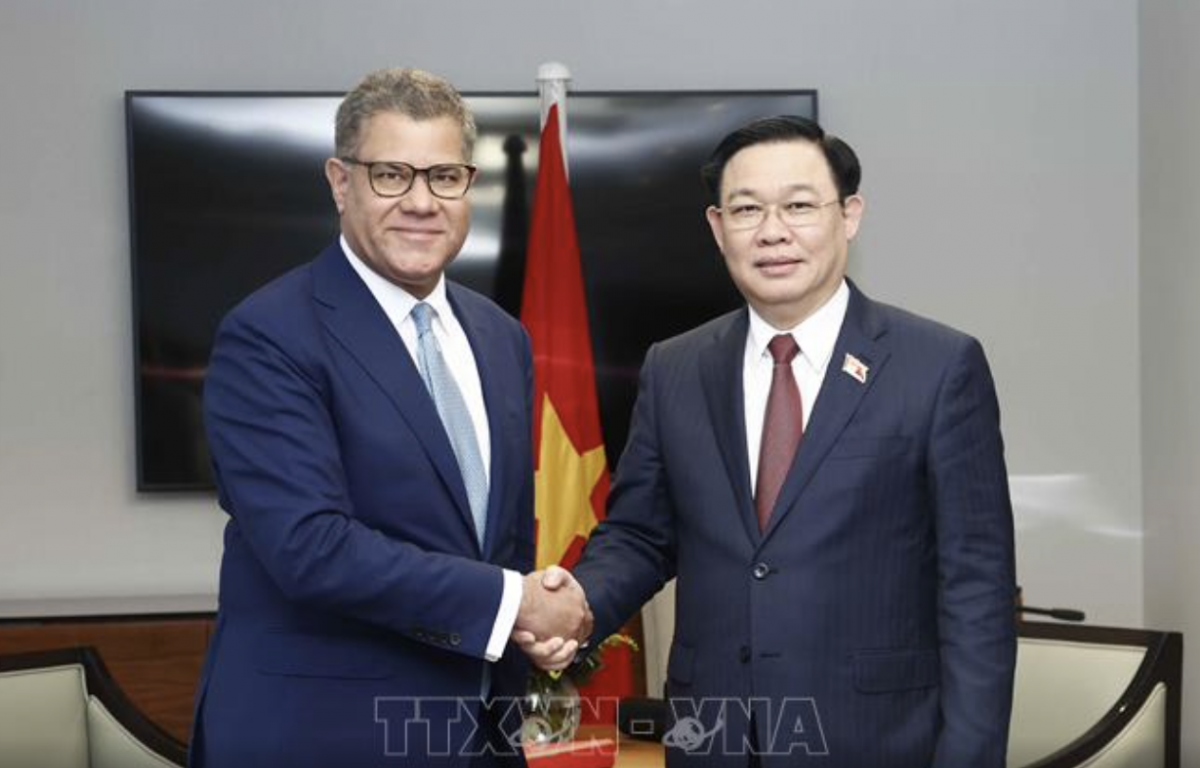 This comes as National Assembly (NA) Chairman Vuong Dinh Hue received Sharma on June 30 as part of his official visit the UK.
During the meeting, Sharma expressed his desire to see the country make political commitments ahead of COP27, particularly regarding the highest level of Government commitments in this field.
Sharma also outlined his interest in issues related to finance, regulatory reform, experience in transforming different forms of energy, and directions aimed at stepping up co-operation between different parties moving forward.
He said that UK Prime Minister Boris Johnson and European Commission (EC) President Ursula von der Leyen recently co-signed a letter to Vietnamese Prime Minister Pham Minh Chinh which proposed establishing the "Just Energy Transition Partnership" (JETP) between G7 countries and Vietnam.
Upon addressing the meeting, NA Chairman Hue said that the country was first to realise the Millennium Development Goals (MDGs). Indeed, as soon as the Sustainable Development Goals (SDGs) made by the UN were put in place, the nation swiftly made internal legislation to implement these goals.
The top Vietnamese legislator affirmed recent Vietnamese commitments at COP26 which clearly demonstrate its determination to respond to climate change, reduce emissions, and boost transition moving towards a green, circular economy.
These commitments are also a positive and responsible contribution of the country in terms of joint global efforts to preserve and protect the Earth's climate.
The Vietnamese NA leader therefore welcomed the G7 for choosing Vietnam as one of the three prioritised countries that will receive support in promoting the energy transition in order to implement recent commitments made at COP26.
Moving forward, the nation has resolved to carry out these commitments through the support and companionship of the wider international community, with this being one of the key and urgent tasks moving forward.
According to NA Chairman Hue, the Vietnamese NA will enhance its role in legislation, intensify supervision, and budget allocation as a means of ensuring the proper implementation of Vietnamese climate commitments made at COP26. This includes increasing investment in research and development, the use of clean technology, and promoting solutions for green growth.
The NA will also supervise the implementation of national plans made by the Government, as well as making amendments and supplements to a series of related plans towards green growth.
The legislature will allocate a budget to implement the SDGs moving towards green growth and realising Vietnamese commitments on climate change, NA Chairman Hue went on to say.
He said that similar to the situation with other developing countries, the nation will face plenty of difficulties and challenges in the process of implementing these commitments. Therefore, as well as domestic resources, support from international partners such as the UK is crucial for the country in this process.
As it strives to swiftly and efficiently implement the commitments to achieve net zero emissions by 2050, the Vietnamese NA leader suggested the two sides continue to boost co-operation in reducing greenhouse gas emission reduction and climate change adaptation.
He also suggested that the UK move to increase support for the country in training, capacity building, and financial and technical support schemes in order to outline a roadmap for a transition moving towards clean and renewable energy in the future.