Cambodian PM hosts outgoing Vietnamese Ambassador
Sunday, 15:15, 04/07/2021
VOV.VN - Cambodian Prime Minister Samdech Techo Hun Sen on July 3 hosted a reception for Vietnamese Ambassador to the Kingdom of Cambodia Vu Quang Minh who came to bid adieu before ending his mission in Vietnam.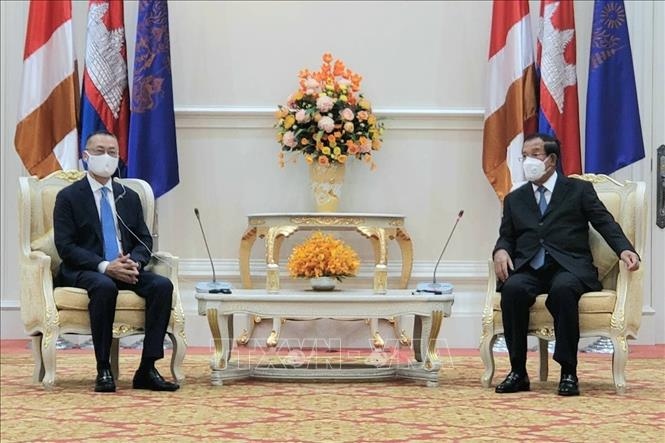 The Ambassador conveyed greetings from senior leaders of the Vietnamese Party, State, Government and National Assembly to Prime Minister Hun Sen.
The Vietnamese diplomat congratulated the Cambodian People's Party (CPP) on its celebration of the 70th founding anniversary, while affirming that the Vietnamese Party, Government and People always bear in mind and thank the Cambodian people for their support and contributions to the past struggles of the Vietnamese people for national independence, liberation and reunification.
Minh hailed the major achievements in national development Cambodia has recorded in a wide range of fields, and expressed his thanks to the Cambodian PM for creating favorable conditions for the Vietnamese businesses and nationals to study and work in the host nation.
Prime Minister Hun Sen, in turn, noted his appreciation for Ambassador Vu Quang Minh's efforts to fulfill his diplomatic mission as a contribution to consolidating the ties of friendship and solidarity and cooperation across multiple areas for the two nations' mutual benefits.
Hun Sen also thanked the Party, Government and people of Vietnam for always giving great support to the just cause of the Cambodian people in all circumstances, and extended greetings and best wishes to Vietnamese senior leaders.
Also on July 3, several Cambodian newspapers covered the meeting between Prime Minister Hun Sen and Ambassador Vu Quang Minh, during which the Cambodian government leader underlined the need for the two countries to join hands in combating the coronavirus pandemic and boosting economic, trade and investment cooperation.