Ambassador lauds Vietnam-Algeria friendly, traditional relations
Thursday, 22:03, 29/10/2020
Vietnamese Ambassador to Algeria Nguyen Thanh Vinh has highlighted the time-honoured, friendly relationship between Vietnam and Algeria, on the occasion of the 58th anniversary of the bilateral diplomatic ties (October 28).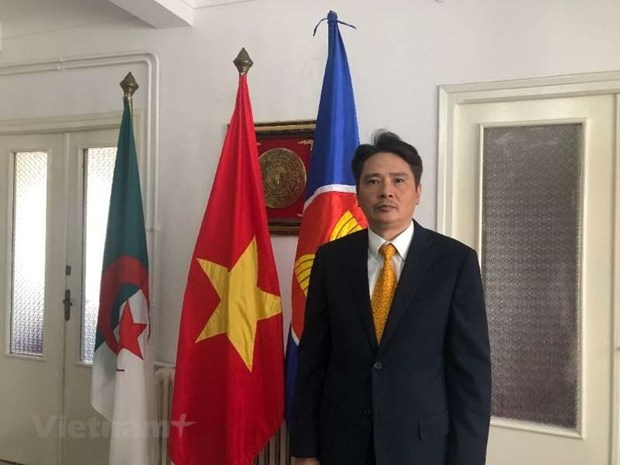 He told the Vietnam News Agency (VNA) that Vietnam was one of the first countries to recognise the Provisional Government of the Algerian Republic in 1958.

Over the past nearly six decades, the bilateral relations have been tightened, with the exchange of high-level visits, and the establishment of cooperation mechanisms such as the Vietnam-Algeria Inter-governmental Committee and political consultation.
The two countries have also offered visa exemption to diplomatic and official passport holders, and visa fee exemption to citizens of each other, he said, adding that friendship parliamentarians' groups and people's associations have also been established with diverse activities.

Vietnam and Algeria have signed 12 agreements and 20 cooperation documents in diplomacy, economy-trade, science-technology, culture, sports, tourism, justice, post office-telecommunications, animal quarantine and hygiene, maritime transport, education, vocational training, finance and agriculture.

They have also supported each other at international forums, according to the ambassador.

Two-way trade reached US$193 million last year, he said, commending the bilateral collaboration in oil and gas, and labour export.

With the fine political ties and resolve of Vietnamese and Algerian leaders to advance the bilateral relations, the multi-faceted cooperation between the two countries, particularly in economy-trade and labour export, would grow further, Vinh continued.

He advised Vietnamese firms to study Algeria's trade and investment policies as well as its culture and religions, and seek partners before deciding to run business in the African country.

Vinh also suggested the two sides share experience in economic development, international economic integration and anti-terrorism, while intensifying and diversifying exchanges between businesses, researchers, scientists, students and residents in economy, culture, science-technology, sports, tourism and health care.