14th NA Standing Committee convenes last meeting
Tuesday, 09:41, 13/07/2021
The 14th National Assembly Standing Committee convened its 58th meeting, also its last sitting, in Hanoi on July 12 to review preparations for the first session of the 15th legislature.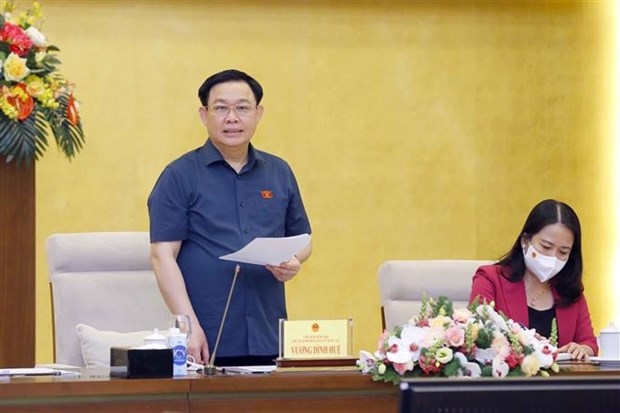 In his opening remarks, NA Chairman Vuong Dinh Hue said the full-time legislators will look into the socio-economic development plan, the national financial plan, the plan on borrowing and repayment of public debts and the mid-term public investment plan for the 2021-2025 period.

They will also give opinions on the Government's proposals on investment plans of two national target programmes, comprising one on new-style rural area building and another on sustainable poverty reduction and social welfare for 2021-2025.

The National Election Council will present a brief report on the verification of the eligibility of deputies to the 15th NA, which is scheduled to be presented at the first session of the 15th legislature, along with another report on voters' opinions sent to the upcoming sitting.  

Hue said there will be no meetings between NA deputies and voters ahead of the first session, adding that such opinions were collected by fatherland front committees before the elections of deputies to the 15th NA and all-level People's Councils for 2021-2026.

Notably, the committee will discuss the Government's organisational apparatus, the personnel work to be submitted to the NA for election and approval of the State's key leadership posts and high-ranking positions in the State apparatus, including the State President, NA Chairperson, Prime Minister, NA Vice Chairpersons, Deputy Prime Ministers, members of the NA Standing Committee, Chairpersons of the NA's Committees, Ministers and other Cabinet members, Chief Justice of the Supreme People's Court, Prosecutor General of the Supreme People's Procuracy and Auditor General of the State Audit of Vietnam.