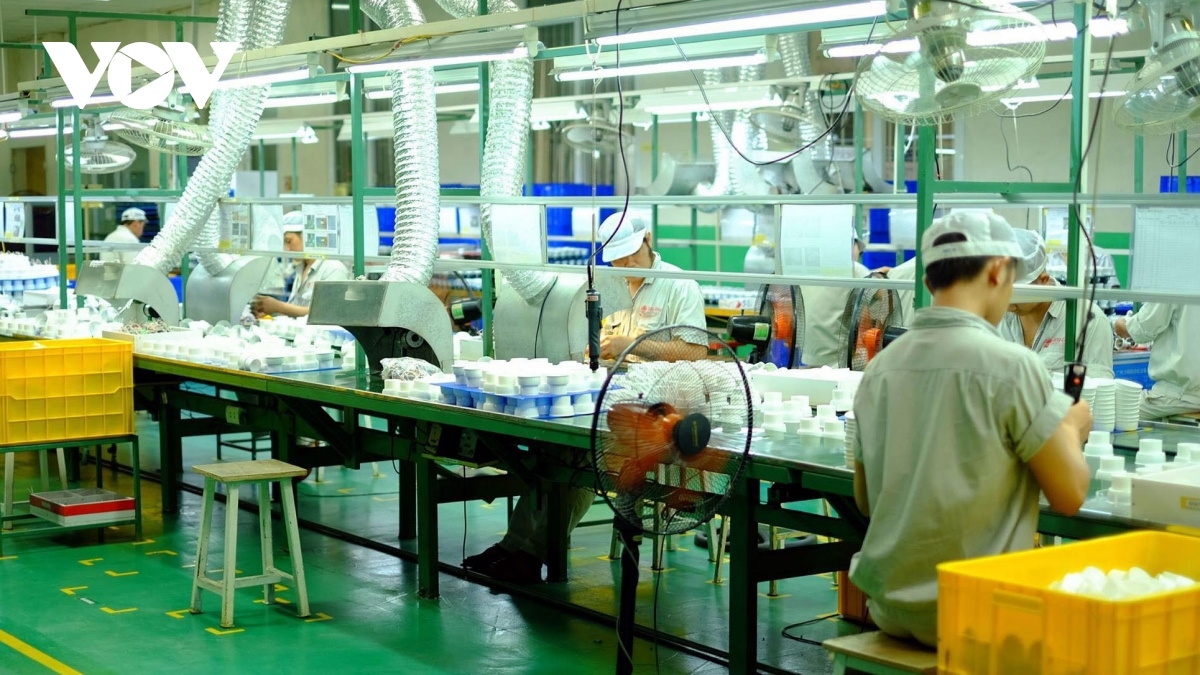 In its June update, the WB says the fourth coronavirus outbreak has led to the sharpest rise in number of COVID-19 cases since the pandemic broke out in Vietnam last year, pushing the government to implement tougher mobility measures, including in main urban centers and a few industrial parks.
As of June 5, all time total infections stood at 8,580 with 53 deaths, including 4,504 cases and 12 deaths during May alone.
In May, industrial production exhibited high resilience by expanding by 1.6% month on month and by 11.2% year on year despite the recent developments of the COVID-19 pandemic. The PMI index remained comfortably expansionary at 53.1 in May, but was slightly lower than the 54.7 figure recorded in April.
However, social distancing and mobility restrictions imposed by a number of localities amplified the decline in retail sales. After a brief rebound in April, retail sales dropped again by 3.1% month on month in May due to the weakening of domestic demand caused by mobility restrictions adopted to control the COVID-19 outbreak.
In addition, the World Bank notes that record-high merchandise trade flowed during the first five month of 2021 but declined slightly in May. WB data show exports and imports fell by 6.7% and 9.4% respectively in May compared to April. The decline in exports was the steepest observed since June 2020.
Yet, the first five months of 2021 saw merchandise exports and imports record the highest growth rates of 29.1 % and 35.4%, respectively compared to the same period in 2020. This remarkable performance reflected robust growth in exports of computers and electronics, and machinery and equipment. It also reflected strong recovery in exports of phones, textiles and garment, and footwear, which increased by 19.5%, 16.1% and 27.0% year on year respectively.
This broad-based growth was driven by strong demand from the United States and China as well as recovering demand from the European Union, ASEAN, the Republic of Korea and Japan.
Meanwhile, foreign direct investment (FDI) declined for a second consecutive month in May. Vietnam attracted US$1.7 billion of FDI in May, a 20% decline month on month. This lower commitment might reflect seasonal factors, but also the prudence of foreign investors because of the ongoing outbreak.
Over the first five months of 2021, FDI commitments reached a total of US$ 14 billion, comparable to the same period last year.
The World Bank report also indicates that inflation continued to rise due to the local transmission of higher commodity prices. The Consumer Price Index (CPI) increased by 0.3% month on month in May, mainly reflecting the impact of rising global commodity prices on local prices.
The recent increase reflects the decision by the government to increase fuel prices at the end of April and in middle of May, causing gasoline, diesel, and kerosene prices to jump by 2.1%, 2.8%, and 5.1%, respectively. Due to supply shortage, prices of inputs for metal production also increased by 4.8% (m/m), raising prices of housing and construction materials.
According to the World Bank, the government's budget registered a surplus in the first five months as revenue collection rose by 15.2% year on year while total expenditure decreased by 3.7% year on year due to a marked slowdown in the execution of the public investment programme.
Looking ahead, the financial institution says close attention should be paid to the evolution of industrial production and retail sales as both could be further affected by the fourth COVID-19 outbreak. Exports may also suffer from the slowdown of activities in some industrial parks.
If the current outbreak is not contained quickly, the government may wish to consider adopting a more accommodative fiscal stance to support affected people and businesses and to stimulate domestic demand, concludes the World Bank.