VinFast partners with French firm in developing vehicle charging stations
Friday, 12:25, 05/11/2021
Vietnamese electric automobile manufacturer VinFast and French state-controlled power group Électricité de France (EDF) signed a Memorandum of Understanding (MoU) on cooperation to install vehicle charging stations in France at the presence of Prime Minister Pham Minh Chinh.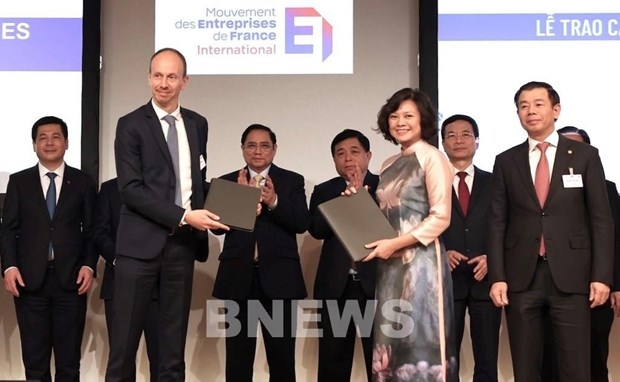 The event took place within the framework of the official visit of Prime Minister Pham Minh Chinh to France from November 3-5.

Under the MoU, VinFast will partner with EDF in providing solutions related to the public vehicle charging station network, and designing special incentives for owners of VinFast electric vehicles in France.

Speaking at the signing ceremony, Olivier Dubois, Electric Mobility Director of EDF expressed his belief that the global transition from gasoline-powered vehicle to electric vehicles requires the participation of the entire ecosystem, including VinFast.
Partnering with VinFast is a strong signal to promote the long-term deployment of zero-emission vehicles in France and Europe, Dubois stressed, adding that the agreement will allow EDF to meet its customers' expectations by providing charging incentives and related services tailored to their specific needs.

The partnership also an important milestone for the Vietnamese electric automobile developer in implementing its strategic investment plans, pioneering research and development activities, and global partnerships with big names operating in automotive industries and innovative start-ups. 

Tran Thi Hong Bich, Acting Director of VinFast Europe said Vinfast sets a goal to provide high-end electric vehicles with top quality, durability and safety standards, which are manufactured with its serious market research and investment plan.

Through the partnership, VinFast can guarantee to provide its services with optimal support to satisfy the most demanding customers, Hong said.

Previously, VinFast announced that it will exhibit its electric vehicle models, which will be introduced at the European market in 2022, at Los Angeles Auto Show 2021 in November, as part of its endeavour to enter the US market.   

EDF is one of the world's largest electricity producers, and the largest renewable energy producer in Europe. The group focuses on cooperating with partners for sustainable growth and climate protection.