Vietnamese enterprises stay active in connecting with US market
Saturday, 15:11, 26/11/2022
VOV.VN - The Vietnam Trade Office in the United States, working in tandem with the Vietnam Chamber of Commerce and Industry (VCCI), sent a business delegation to study and survey the US market from November 20 to December 1, with the aim of continuing to boost trade and investment relations between the two countries.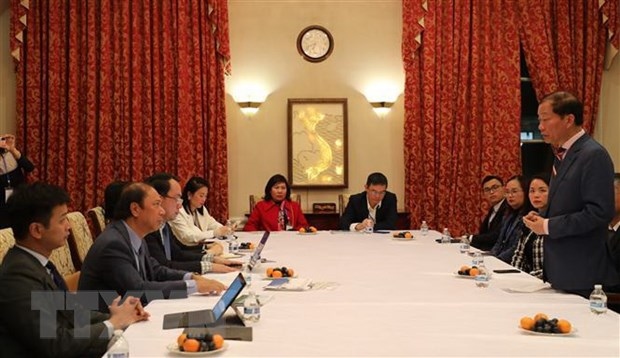 The delegation was led by Hoang Quang Phong, vice president of the VCCI, with the participation of leaders representing more than 30 local business units operating across a range of sectors.
After the delegation's programme in New York with market research activities, Vietnamese Ambassador to the US Nguyen Quoc Dung held a working session with the delegation at the Embassy.
During the course of the meeting Phong, who led the delegation, shared that the purpose of the working scheme and the results of the market survey in New York were to introduce business representatives who are keen to learn the market and seek business connection opportunities with US firms.
Vietnamese enterprises operating in many industries such as energy, software technology, rice (agricultural products), pharmaceuticals, plastic products, export wooden furniture, banking services, and information technology have therefore been able to introduce their major products and business lines. They wish to open up opportunities in the market whilst connecting with American customers through the introduction of the diplomatic representative agencies of the two countries.
For his part, Ambassador Dung exchanged views on the situation of trade and investment ties between both sides, whilst updating policies and prospects for development links in the lead up to the 10th anniversary of the comprehensive partnership between the two countries ahead in 2023.
The Ambassador also assessed some of the information, sharing the advantages, difficulties, and challenges, as well as things to note when exporting to the US market.
Accordingly, the representative agency of Vietnam in the US will actively co-ordinate and support businesses in collecting and researching the market, providing information on American buyers, as well as specialised fairs.  In addition, local businesses must seize upon these opportunities amid the US looking for alternative sources of goods due to the disruptions hitting the global supply chain.
Special attention should therefore be paid to research on development strategies based on digital platforms, directly-connected systems, and the application of information technology in corporate governance.
Following the meeting with the Embassy, the Vietnam Trade Office in the US and the business delegation continued to hold working sessions with local businesses.
Moving forward, the delegation is set to continue working schemes in Silicon Valley in San Francisco and hold a working session with Long Beach Port representatives in Los Angeles on immigration clearance regulations through the port.