Vietnamese dragon fruit favourite with Australian consumers
Friday, 18:00, 23/07/2021
VOV.VN - The Vietnamese Trade Office in Australia is launching Vietnamese Dragon Fruit Weeks in several major Australian cities from July 21 to August 10 to further popularize the Vietnamese tropical fruit in the lucrative market.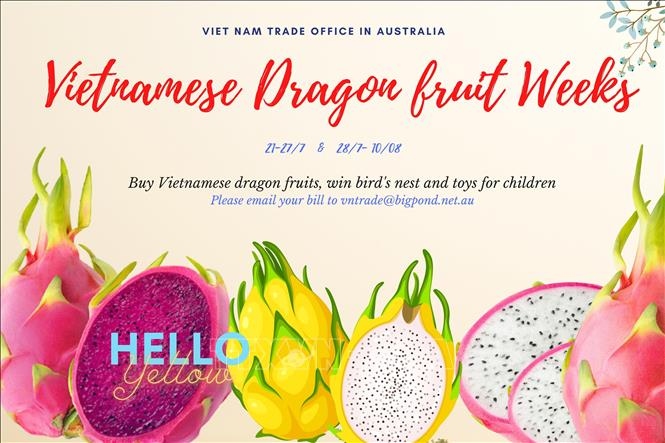 The programme was launched on the back of a shipment of 10 tonnes of Vietnamese dragon fruit which were recently imported and distributed locally by the Hoa Australia Company.
A representative of the Vietnamese Trade Office in Australia said that despite some major Australian cities applying social distancing measures aimed at halting the spread of the COVID-19 pandemic, a number of import companies and supermarkets have expressed a keen interest in importing the Vietnamese dragon fruit.
The representative went on to reveal that the Trade Office has deployed a range of trade promotional activities to support Vietnamese businesses in selling the product amid ongoing COVID-19 challenges.
Most notably, the Trade Office has recently helped the Dalat Import-Export Company, based in Melbourne, to import five tonnes of dragon fruit and distribute it throughout several Australian localities.
According to details given by the agency, Australian consumers consider Vietnamese dragon fruit to be very delicious and are impressed with their quality and tastes.
Last year saw Australia import the Vietnamese dragon fruit worth US$4.18 million, 36% higher than the previous year.
In the first half of this year, the volume of dragon fruit exports to Australia remained stable with good selling prices.
Most notably, Coles, one of Australia's two leading retail chains, has imported Vietnamese dragon fruit and sold them for an average price of AUD4.9 each, equivalent to VND80,000.
Meanwhile, at supermarkets specialising in selling fruit and fresh food in large cities such as Melbourne, Sydney, and Brisbane, the price of Vietnamese dragon fruit hovers between AUD9 and AUD15 per kilo, equivalent to between VND149,000 and VND247,000.