Vietnamese consumer goods introduced in France
Friday, 12:32, 05/11/2021
A Vietnamese consumer goods week kicked off at the Carrefour supermarket in Collégien city of France on November 4, with the presence of Minister of Industry and Trade Nguyen Hong Dien, in the framework of Prime Minister Pham Minh Chinh's official visit to France.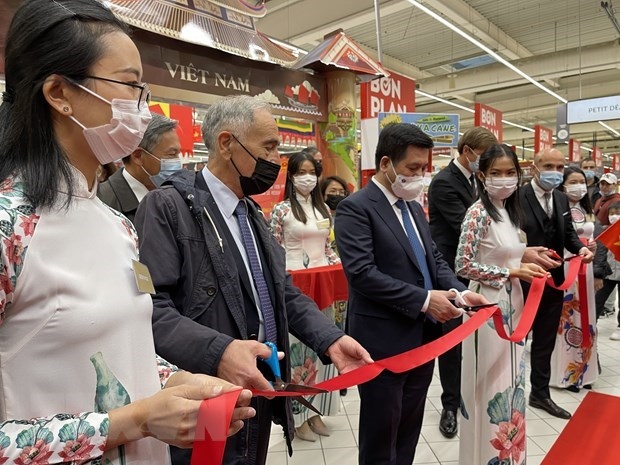 The programme, which is an initiative of Carrefour Group and T&T Foods Company with the support of the Vietnam Trade Office in France, aims to introduce Vietnamese products to French consumers in particular and those in Europe in general.

In his speech at the event, Minister Dien highly valued the initiative, saying that this event helps more French consumers know about Vietnamese goods, and that Carrefour is not only a goods distribution channel but also a channel for introducing Vietnamese culinary culture.

He underlined the significance of the event for Carrefour to develop a potential market segment for consumers with a taste for Asian products.

The minister expressed his belief that based on good trade relations between Vietnam and France, France's position as the 4th largest trading partner of Vietnam in the European Union (EU), plus an effective leverage from the EU-Vietnam Free Trade Agreement (EVFTA), consumers of the Carrefour system in France in particular and Europe in general will have opportunities to access diverse and quality Vietnamese goods at reasonable prices.

For his part, CEO of Carrefour Rami Baitieh emphasized the interest and appreciation of French customers for Vietnamese food, revealing that Carrefour plans to add 50 more Vietnamese products to the Carrefour system each year.

The Vietnam goods week abroad is an annual event organized by the Ministry of Industry and Trade at various supermarket chains around the world such as Central Retail and MM Megamarket in Thailand, Big C in France, Metro in Germany, Aeon in Japan, Emart in the Republic of Korea, and Coop Mart in Italy.

This is one of main activities within the framework of a project the ministry has implemented since 2015 to help connect Vietnamese exporters with major distribution systems in the world.

Established in 1959 in Annecy, France Carrefour is a French economic group specializing in supermarkets. The firm is currently one of the world's leading retailers, with its supermarket system expanded to many countries in Europe, South America, and Asia.