Vietnam, US businesses to seize opportunities in new normal
Tuesday, 16:57, 07/12/2021
VOV.VN - Both local firms and enterprises from the United States should seize upon market opportunities as the world is entering a new normal in order to promote greater trade and investment ties, experts said on December 7 at the 2021 Vietnam – US trade forum which was held both physically and virt
Potential trade partners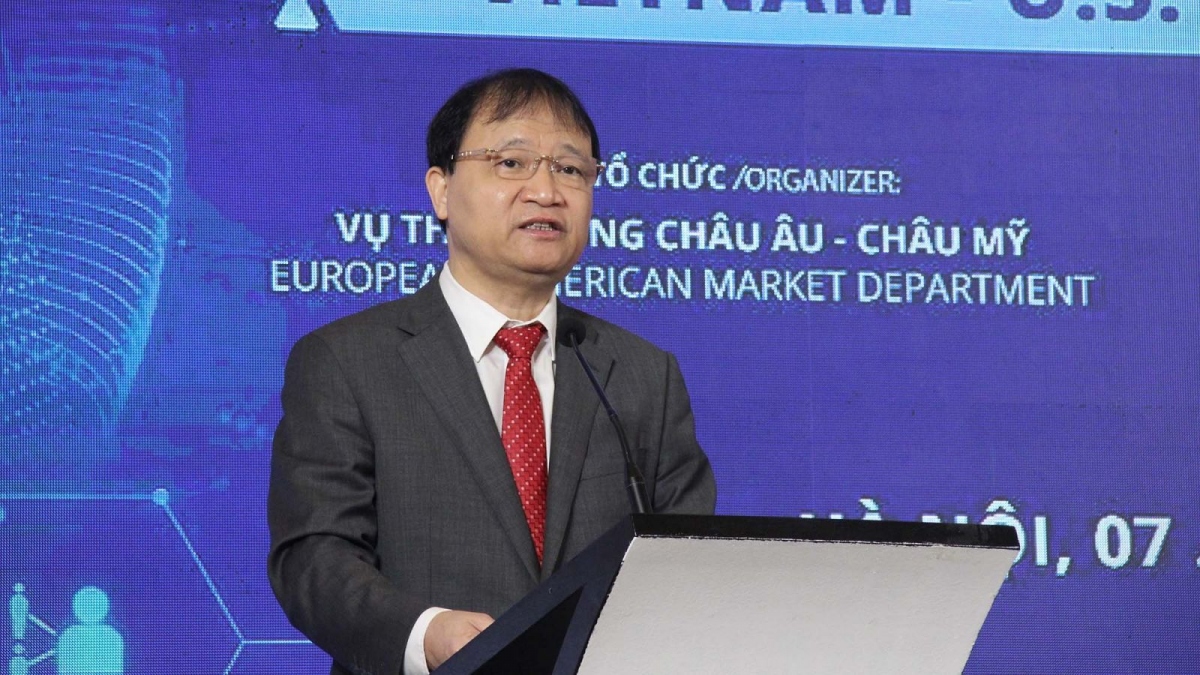 Addressing the forum, Deputy Minister of Industry and Trade Do Thang Hai noted that the US represents one of Vietnam's leading partners in all pillars of co-operation, especially in trade.
Recent decades has seen two-way trade turnover between both sides increase 168 times, rising from just US$450 million in 1995 to US$1.5 billion in 2001, before reaching US$90.8 billion in 2020 to mark an increase of 19.9% compared to 2019. Despite the negative impact of the COVID-19 pandemic, the initial 10 months of the year witnessed trade exchanges hit US$89.6 billion.
Most notably, the US has maintained its position as the country's largest trading partner and the largest export market, whilst Vietnam has become the ninth largest trading partner of the US, moving up five places compared to 2020.
Meanwhile, the US's investment has made an important contribution to Vietnamese development, helping the country to stand firm in the global supply chain. As of October, the US ranked 11th among 138 foreign investors in the Vietnamese market, with 1,134 valid projects valued at US$9.72 billion.
The majority of the largest US firms, such as Exxon Mobil, Murphy Oil, Chevron, Boeing, Ford, Intel, Wal-Mart, Nike, Amazon, and P&G have been operating locally for an extended period of time, with many of them appreciating the country as an ideal, important, and safe investment location in the global supply chain.
"Bilateral co-operation between Vietnam and the US is rapidly expanding into many fields, in which the digital economy, technology, energy and infrastructure are viewed as having great potential and becoming key players in future economic and trade cooperation," stressed Deputy Minister Do Thang Hai.
Plenty of ample opportunity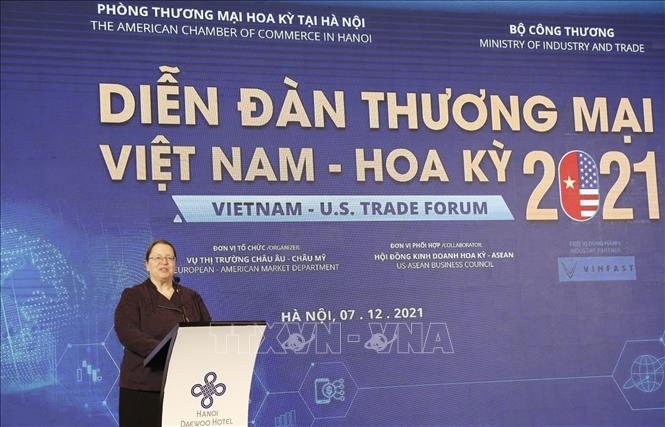 During the forum, Marie Damour, Charge d'Affaires of the US Embassy in Hanoi, outlined the US' commitment to supporting Vietnam in meeting its energy development goals, with a specific focus on renewable energy and solving climate change issues to help the local economy develops dynamically. 
Moreover, she said that the US wishes to introduce new companies in the healthcare sector in order to co-operate and invest in the Vietnamese market, as well as to share experience in technology development for electronics, online streaming, and aviation services.
To realise the two countries' future goals, Deputy Minister Hai said both sides should promote the policy dialogue mechanism of their Trade and Investment Framework Agreement (TIFA) to create a favourable legal framework for promoting trade and investment co-operation, and simultaneously promptly resolving difficulties that may arise in the field of economics and trade.
As both countries are entering a new normal, Hai said they need to strengthen connectivity, limit trade remedy cases, and resolve outstanding issues through negotiations in a bid to ensure the continued operation of supply chains. This will also contribute to avoiding any negative impacts on manufacturing industries, many of which have already been hit hard by the COVID-19 pandemic.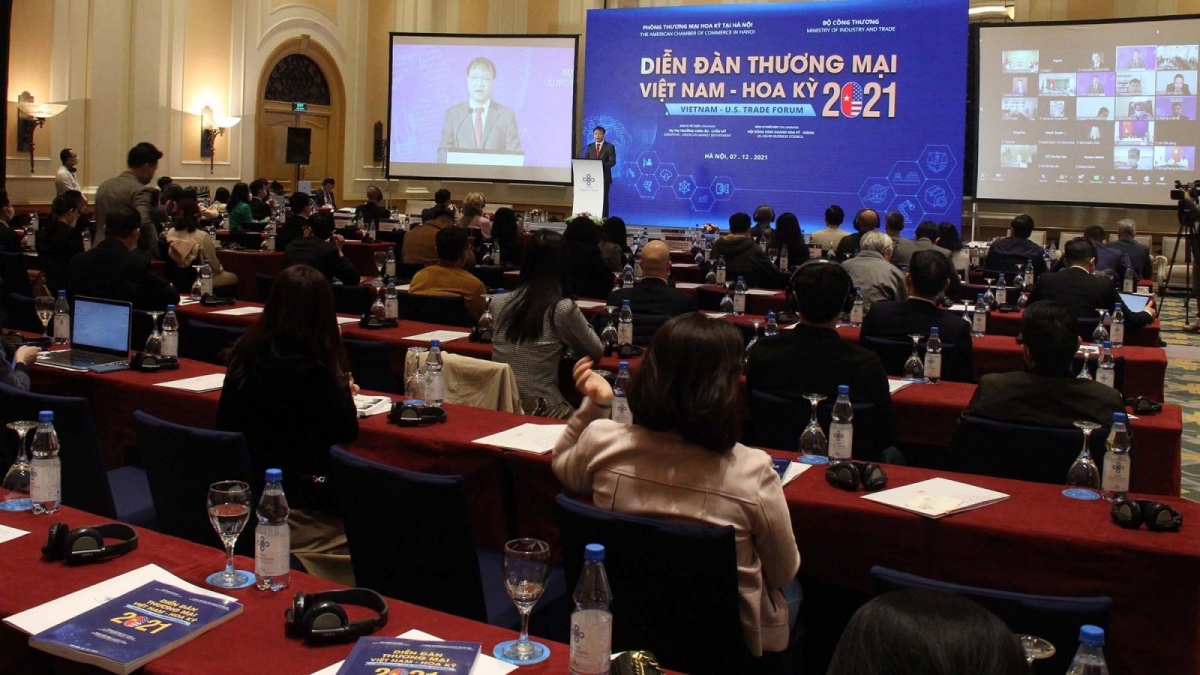 Bui Huy Son, Minister Counselor and head of the Vietnam Trade Office in the US, pointed out that the US economy is recovering and growing well, although supply chain disruption is leaving a legacy. Indeed, a shortage of consumer goods also creates a great opportunity for Vietnamese enterprises to speed up production and boost exports to the US market.
Beth Hughes, vice president of the American Apparel and Footwear Association (AAFA), echoed Son's point of view, saying that the US has witnessed a sharp decrease in supply from the country, which is one of the main suppliers of textiles, footwear, and leather goods to the US.
In order ensure that the supply chain is not further disrupted, she said the AAFA is fully committed to further supporting and maintaining partnerships with Vietnamese manufacturers.
As a result, efforts will be made to restore production and participate more deeply in the global value chain, according to Hughes.
Virginia Foote, vice president of the American Chamber of Commerce (AmCham) in Hanoi, stressed the need to fully vaccinate people and employees as a means of restoring production and deeply engaging in the global value chain. She also suggested that the country should strive to facilitate trade liberalisation, tax policies, and administrative procedures to support bilateral trade exchanges.