Vietnam tops global crypto adoption index
Friday, 12:45, 20/08/2021
VOV.VN - Vietnam ranked first in the global cryptocurrency adoption index, according to the 2021 Global Crypto Adoption Index compiled by blockchain data platform Chainalysis.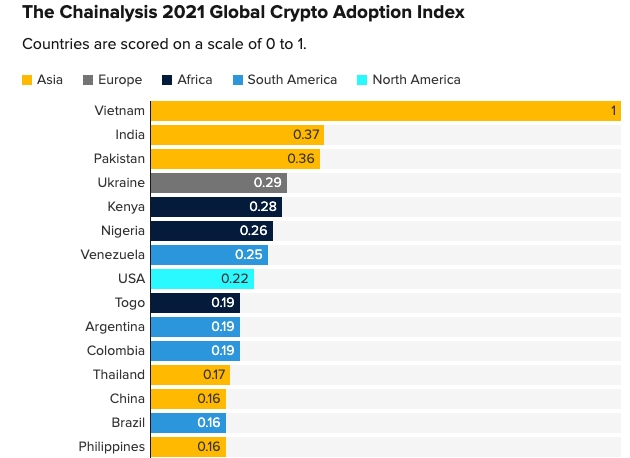 The list sees Vietnam in first place with one point, followed by India and Pakistan with 0.37 and 0.36 points, respectively.
2021 is the second year that the blockchain data firm has released its Global Crypto Adoption Index. Chainalysis ranks 154 countries according to three metrics, including peer-to-peer exchange trading volume, on-chain retail value transferred, and on-chain cryptocurrency value received.
Chainalysis data show global crypto adoption has risen by over 2,300% since 2019, rising by over 881% since the second quarter of 2020.
"Several countries in emerging markets, including Kenya, Nigeria, Vietnam, and Venezuela rank high on our index in large part because they have huge transaction volumes on peer-to-peer (P2P) platforms when adjusted for PPP per capita and internet-using population," says the blockchain data platform.
The report also notes that many residents of these countries have turned to cryptocurrency in order to preserve their savings amid ongoing currency devaluation, as well as sending and receiving remittances and carrying out business transactions.
Elsewhere in the rankings, the United States dropped to eighth position from sixth place, while China fell from fourth to 13th.