Vietnam, Thailand strive for bilateral trade target of US$25 billion by 2025
Thursday, 09:54, 21/04/2022
VOV.VN - Both nations have agreed on a number of specific orientations, solutions, and action plans to boost bilateral cooperation during the post-COVID-19 period, towards achieving the two-way trade turnover target of US$25 billion by 2025 as set out by the two Government's leaders.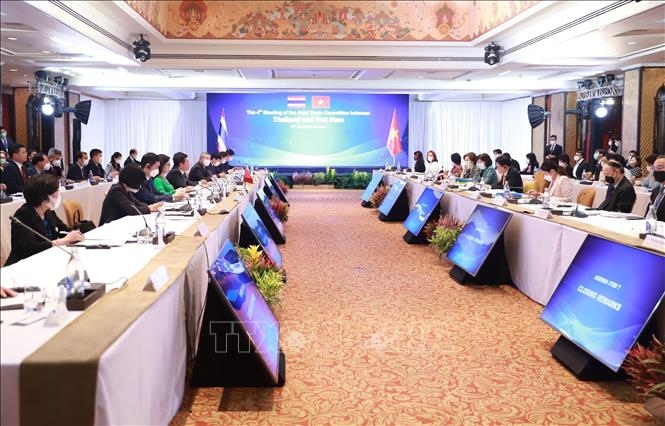 This comes following Minister of Industry and Trade Nguyen Hong Dien and Thai Deputy Prime Minister and Minister of Commerce Jurin Laksanawisit co-chairing the fourth Vietnam-Thailand Joint Trade Committee which was held on April 20 in Bangkok, Thailand.
Upon addressing the meeting, Deputy PM and Minister Laksanawisit applauded Vietnamese socio-economic development achievements and positive results in the fight against the COVID-19 pandemic, as well as its strong economic recovery in the post-pandemic period. Thailand considers the nation to be an important and leading partner in Southeast Asia, placing great importance on promoting economic and trade co-operation, he said.
The Thai trade official requested that the country co-ordinate and facilitate transit goods under the terms of the agreements signed within the Greater Mekong Subregion (GMS) and ASEAN co-operation frameworks. He also suggested the need to facilitate the import licensing process for chicken products and some Thai fruits, as well as the registration of pharmaceuticals. He went on to propose expanding the scope of labour co-operation within the framework of the Memorandum of Understanding (MoU) signed between two labour ministries.
According to Minister Dien, specific initiatives, solutions, and actions discussed and agreed upon by both sides at the meeting will add fresh impetus to bilateral economic and trade co-operation, whilst simultaneously enhancing joint co-ordination within ASEAN and multilateral and regional co-operation frameworks.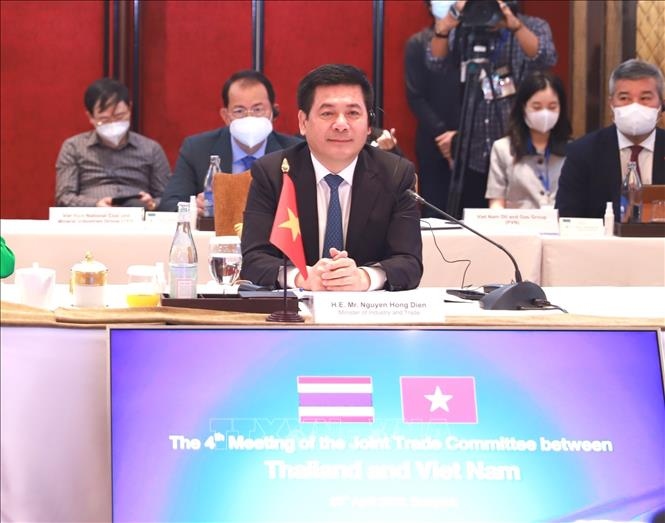 The meeting reviewed co-operation activities and assessed the positive results achieved, as well as some limitations in terms of trade relations and co-operation in related fields since the third meeting held back in 2018 in an effort to deepen the joint economic partnership.
In terms of trade co-operation, the two sides recorded positive growth of bilateral turnover, with trade exchange in 2021 reaching a figure of US$18.8 billion, marking a year-on-year rise of 17.9% despite facing plenty of difficulties and negative impacts caused by the COVID-19 pandemic.
Both sides therefore pledged to boost closer co-ordination in creating a favorable environment for import and export activities of their enterprises, with a particular focus on trade development solutions based on greater balance and a mutually-beneficial basis.
Talking points also concentrated on the need to ramp up e-commerce co-operation, including sharing experience in building a digital trade promotion ecosystem.
With regard to agricultural co-operation, the two sides discussed continuous co-ordination aimed at expanding market access for fresh fruit products, whilst speeding up the process of pest risk analysis. They also emphasised the importance of the Memorandum of Understanding (MoU) on co-operation in the application of sanitary and phytosanitary measures (SPS) signed back in 2004, as well as exchanging the possibility of re-signing the MoU.
With regard to transport connectivity, they consented to strengthen co-ordination in the implementation of the Greater Mekong Subregion Cross-Border Transport Agreement (GMS CBTA), whilst also encouraging greater co-operation in the development of two-way transport services between the two nations.
In terms of investment, both sides are poised to promote investment co-operation in areas of mutual interest, including fundamental industries such as energy, automobiles, materials, electronics, and chemicals. This is in addition to food processing, garments and textiles, and infrastructure development, such as industrial parks, energy, and logistics infrastructure.
They  recognised co-operation results and consented to co-ordinate with relevant agencies of each country as a means of bolstering co-operation in areas such as banking, labour, intellectual property, and investment. This will be done with the goal of supporting and creating more opportunities for the expansion of commercial activities moving forward.
The pair were also of the same mind with regard to closer co-ordination and mutual support in sub-regional, regional, and multilateral mechanisms to overcome the various impacts of the COVID-19 pandemic on the regional economies.
The two sides pledged to ramp up co-ordination in carrying out and upgrading the ASEAN Trade in Goods Agreement and ASEAN+ Free Trade Agreements, with a primary focus on putting trade facilitation measures in place. Other factors include resolving non-tariff barriers, transparency in order to ensure the uninterrupted flow of goods, whilst enhancing intra-ASEAN trade and regional supply chains, thereby contributing to the region's post-pandemic economic recovery process.
At the end of the meeting, the two heads of the delegations approved the minutes of the meeting and pledged their close co-ordination in directing the two ministries' functional units to implement the results, a move which will serve to further promoting the friendship, economic, and trade co-operation between both sides.
During his working visit to Thailand, Minister Dien held a working session with key leaders of Kasikorn Bank and Central Group.