Vietnam-South Africa seek opportunities to boost trade co-operation
Friday, 11:08, 25/11/2022
VOV.VN - Vietnamese Deputy Minister of Industry and Trade Tran Quoc Khanh and South African Deputy Minister of Trade, Industry and Competition Nomalungelo Gina co-chaired the fifth meeting of the Vietnam-South Africa Joint Trade Committee on November 24 in Johannesburg in the Republic of South Africa.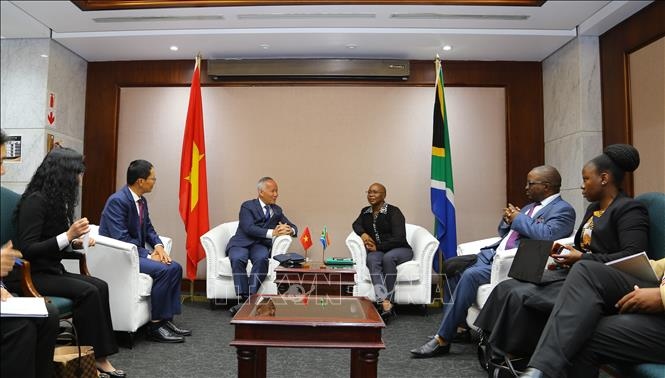 As part of her speech at the meeting, South African Deputy Minister Gina emphasised that her country always attaches great importance to the relationship with Vietnam, which was originally established nearly 30 years ago, with the relationship consistently being cultivated by both sides during this time.
She went on to say that Vietnam represents South Africa's ninth largest trading partner in Asia, while South Africa is currently the largest Vietnamese trading partner in Africa.
According to Deputy Minister Gina, the signing and enforcement of the African Continental Free Trade Area (AfCFTA) will bring about plenty of fresh investment opportunities to an open and broader market for Vietnamese businesses.
She emphasised that the African nation encourages countries like Vietnam to not only view the continent as an export market, but to see it as an increasingly important investment destination.
In response, Deputy Minister Khanh stated that the fifth meeting of the JTC between the two sides is taken place at an opportune time as both economies have fully reopened with economic and trade activities recovering strongly after more than two years of being affected by the COVID-19 pandemic.
According to the Vietnamese Deputy Minister, the successful organisation of this meeting will contributing to the celebration of 30 years of diplomatic ties between the two countries next year, thus deepening their sound political, diplomatic, and economic relations.
Furthermore, the regional and global situation has undergone an array of profound changes, which pose both opportunities and challenges for the two economies, thereby requiring them to enhance connection and mutually beneficial co-operation.
During the course of the meeting the two sides exchanged opinions on a report on the results of the technical meeting and a number of issues of mutual concern, raised difficulties and advantages, as well as discussing co-operation opportunities in the future.
Mutual trade turnover hit a record high of nearly US$1.4 billion in 2020. Despite being negatively affected by the COVID-19 pandemic and difficulties occurring in the global logistics industry, trade exchange in 2021 reached close to US$1.3 billion and US$1.1 billion over the past 10 months of the year.
According to Deputy Minister Khanh, both countries are open economies, with foreign trade playing an important role, meaning there is great potential for further developments.
Most notably Vietnam is currently an important link in the regional and global supply chains of electronics, iron and steel, seafood, food, garments and textiles, footwear, and furniture. In contrast, South Africa is viewed as a nation with the most developed economy in Africa, boasting a Gross Domestic Product (GDP) of nearly US$420 billion and developed infrastructure.
It is therefore the driving force behind the development of 14 countries in the Southern African Development Community (SADC).
Furthermore, the structure of import and export goods of the two countries is not competitive but complementary. Specifically, South Africa has needs to import agricultural products such as rice, coffee, and pepper, along with electronic products, seafood, and garments and textiles from Vietnam.
Moreover, the Vietnamese side has the need to import minerals such as coal, titanium, iron ore, and other common metals, machinery and equipment, wood, chemicals, wine, fruit, and raw leather from South Africa.
Along with this, the two countries have different seasons, so the import and export of agricultural products between the two countries also has great potential.
However, Deputy Minister Khanh assessed that difficulties remain in economic and trade relations between the two nations, including limited information exchange and a long geographical distance, thus reducing the competitive advantage of each country's exports.
Deputy Minister Khanh also said that bilateral turnover is not commensurate with the inherent potential of the two sides.
Currently, Vietnamese exports to South Africa account for only about 1.4% of their global imports, whilst South African exports to Vietnam also make up less than 0.5% of total Vietnamese imports from across the globe.
In order to overcome these difficulties and take advantage of further co-operation opportunities, Deputy Minister Khanh made a number of proposals, including intensifying information exchanges relating to trade and investment policies, as well as regulations related to exports and imports.
Thanks to this, businesses will be able to boost co-operation and mutual support to carry out trade and investment promotion activities and study further co-operation opportunities in the field of logistics as a means of strengthen the logistics connection between the two countries. This is along with ramping up co-operation in potential industrial fields such as mining for coal, titanium, and rare earth minerals, mechanical engineering, metallurgy, iron and steel, renewable energy, footwear, fertilizer, food processing, as well as co-operation in the field of supporting industries and automobile manufacturing and auto parts.
Deputy Minister Khanh also proposed that the two ministries further strengthen exchanges between professional management units.
At the end of the meeting, the two sides agreed, signed, and exchanged Minutes of the fifth meeting of the Joint Trade Committee between Vietnam and South Africa.
With sustained efforts to promote trade, industry, and energy co-operation between the two countries, the Vietnamese Deputy Minister agreed with the proposal to hold the sixth meeting in Vietnam in 2023, with the specific organisation to be discussed and agreed upon by the two sides at a later date.