Vietnam, Russia seek stronger agricultural co-operation
Friday, 18:32, 08/04/2022
VOV.VN - Vietnamese Ambassador to Russian Dang Minh Khoi and Russian Deputy Minister of Agriculture Sergei Levin discussed a range of measures aimed at ramping up agricultural co-operation between the two countries during a recent meeting.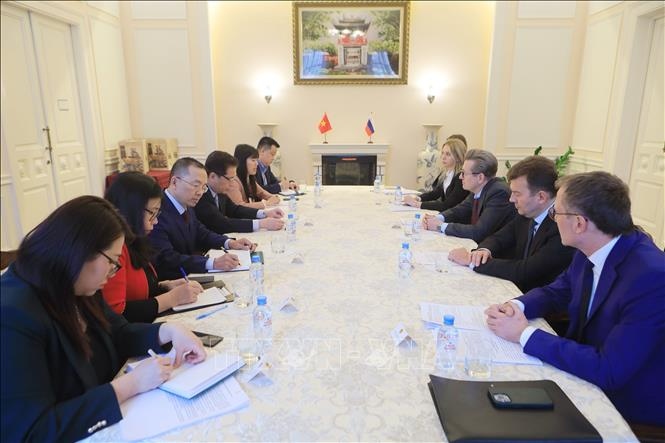 Both sides compared notes on their co-operation in the field of agricultural, assessed the current situation of co-operation between competent agencies on import and export management, trade promotion, trade, whilst taking time to learn about each other's markets.
They outlined their belief that the market opening for each other's agricultural products, despite being significantly improved, has so far still failed to meet the market access needs, desires, and capabilities of firms from the two countries.
Ambassador Khoi emphasized that the number of enterprises exporting agricultural products to each other's markets is in the process of increasing each day.
The local diplomat stated that by the end of 2021 Russia had permitted 50 Vietnamese enterprises to ship seafood to the Russian market. In contrast, 132 Russian firms are able to export meat and seafood items to the Southeast Asian nation.
This serves as an important premise in which both sides can strive to consolidate and expand co-operation in trade and agricultural product production moving forward.
The leader of the Russian Ministry of Agriculture stated that trade co-operation in agricultural products between both sides continue to boast a lot of potential for stronger development in the near future.
Russia features many key commodities that can be exported to the Vietnamese market, including wheat, corn, vegetable oil, and fertilizer, while in return, the nation also has many strong export products going to the Russian market.
The two sides put a score of measures in place as part of wider efforts to step up co-operation by organizing a ministerial-level online conference to promote agricultural trade co-operation in April and November.
This includes participating in the 23rd session of the Vietnam-Russia Intergovernmental Committee and holding a working session between leaders of the two countries' ministries of agriculture within the framework of the visit to Russia by Vietnamese President Nguyen Xuan Phuc.
These measures made an important contribution to the results of agricultural trade co-operation between the two countries in 2021.
Most notably, agricultural exports from Vietnam to Russia in 2021 reached US$612.7 million, up 25% on-year, while exports from Russia to Vietnam hit US$523.1 million, a climb of 21% compared to 2020.
Moreover, the Vietnamese market represents the leading supplier of many products to Russia, such as coffee, seafood, cashew nuts, pepper, and tea. Meanwhile, Russia was the leading supplier of pork to the nation in 2021, with a turnover of US$137 million, accounting for 43% of Russia's total pork exports.
In addition to this, Russian fertilizer exports to the country in 2021 expanded by 162% compared to 2020, reaching US$153.3 million in the process.