Vietnam, RoK strive to boost investment co-operation
Friday, 18:18, 24/06/2022
VOV.VN - The Vietnam Investment Promotion Conference was held on June 24 in Seoul to mark the 30th anniversary of diplomatic relations between Vietnam and the Republic of Korea (RoK).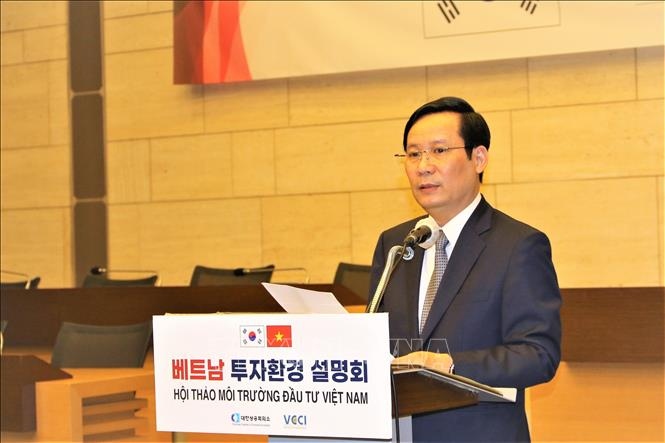 Upon addressing the event, Joo Si-bo, president of the RoK-Vietnam Economic Cooperation Association, underscored the importance of trade promotion activities between firms from both nations moving into the post-COVID-19 period.
Joo proposed a range of priority areas relating to future co-operation, including the community-based health care aimed at dealing with the impact of pandemic, development of smart cities, digital economy sectors, and the restructuring of global supply chains.
He emphasized the necessity of strengthening ties to promote green industries, reducing greenhouse gas emissions to respond to climate change, and creating sustainable jobs.
Pham Tan Cong, chairman of the Vietnam Chamber of Industry and Trade (VCCI), pointed out with factors such as political stability, an abundance of human resources, advantages of export scale, a positive investment climate, and the signing of 17 free trade agreements (FTAs), Vietnam has emerged as the world's leading attractive destination for FDI attraction. This is in addition to improved transport infrastructure and rapid digital transformation are being upgraded very quickly.
He revealed that over the past three decades, the VCCI has actively co-operated alongside RoK partners, especially the Korea Chamber of Commerce and Industry (KCCI) to deploy trade and investment promotion programmes in Vietnam.
At the event, experts expressed their firm belief in Vietnamese economic growth momentum moving into the post-pandemic period, while proposing co-operation in developing supply chains, applying environmentally-friendly technologies, as well as mitigating the impact of climate change.