Vietnam, New Zealand eye US$2 billion in bilateral trade
Monday, 12:16, 05/12/2022
Economic and trade partnerships have always been one of the bright spots in the Vietnam - New Zealand relations, and the two countries are striving for US$2 billion in bilateral trade by 2024.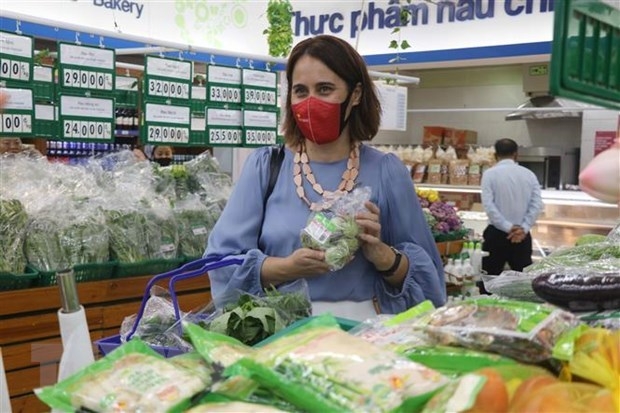 Chairman of the National Assembly Vuong Dinh Hue is paying an official visit to New Zealand from December 3 to 7, which is also expected to open up many new opportunities for trade ties.

Despite the COVID-19 pandemic, bilateral trade turnover still reached US$1.3 billion in 2021, up 26.7% year on year. It increased 14% from a year earlier to stand at US$1.2 billion in the first 10 months of 2022, including US$602.2 million in Vietnam's exports (up 12.8%) and US$623.2 million in imports from New Zealand (up 15.2%).

The two economies are complementary to each other. The commodities in demand in New Zealand include electronic devices, apparel, footwear, wood products, tropical farm produce, and fishery products. Meanwhile, Vietnam has demand for dairy materials and products, wine, mutton, fruits, timber, and textile - garment and leather - footwear materials from New Zealand.

Notably, both are members of the Comprehensive and Progressive Agreement for Trans-Pacific Partnership (CPTPP) and the Regional Comprehensive Economic Partneship (RCEP). New Zealand currently ranks 36th among the trading partners of Vietnam.

The Vietnamese Trade Office in New Zealand said as both countries have joined several free trade agreements (FTAs), tariff and non-tariff barriers are being lowered or have been lifted, which is a big opportunity for Vietnamese goods to enhance competitiveness over rivals from the countries without FTAs with New Zealand.

Besides, amid international trade friction and the complex COVID-19 pandemic, more and more enterprises of New Zealand are paying attention to goods from Vietnam, especially apparel and building materials.

However, the office noted, challenges are considerable since New Zealand has high technical barriers for agricultural, fishery, and food products. So far, this country has just licensed mango, dragon fruit, rambutan, tra fish, and processed food from Vietnam. High costs and long duration of transportation due to geographical distance also boost prices of Vietnamese goods compared to some other countries' rivals.

Bilateral trade has yet to match potential, the office said, adding that with a population of about 5 million, New Zealand's export demand is higher than import. The five biggest exporters to this country, namely China, Australia, the US, Japan, and Germany, have already made up a relatively high proportion of New Zealand's imports.

To achieve the US$2 billion bilateral trade by 2024, the office recommended a methodological and long-term strategy be issued to boost Vietnam's export to New Zealand, and enterprises work closely with importers to ensure their products meet the market's standards and regulations.

The Asia - Africa Market Department under the Ministry of Industry and Trade said Vietnamese businesses should proactively learn the FTAs to which both Vietnam and New Zealand are members so as to fully tap into preferential treatment related to tax and product origin.

They should also actively take part in trade promotion events and business networking programmes to seek partners and advertise products while seriously adhering to the market's import standards, the department added.