Vietnam, Mexico seek stronger economic and investment co-operation
Tuesday, 09:50, 05/07/2022
VOV.VN - Mexico views the Vietnamese market as being of strategic importance in the Asia-Pacific region, said Luz Maria de la Mora, Mexican Undersecretary for Foreign Trade, on July 4 at the Vietnam-Mexico Business Forum held in Mexico City.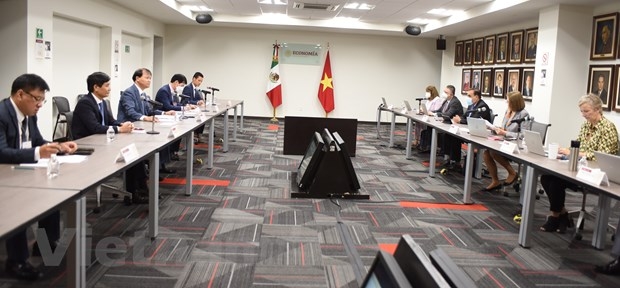 A Vietnamese delegation made up of 23 businessmen, led by Deputy Minister of Industry and Trade Do Thang Hai, attended the Vietnam-Mexico Business Forum in a bid to seek further opportunities to boost trade, economic, and investment ties with local partners.
As part of his speech at the event attended by nearly 100 firms from both countries, Luz Maria outlined her great appreciation for bilateral economic and trade relations over recent years, adding that Mexico is ready to serve as a gateway for Vietnamese goods to enter the North American and Latin American markets.
She went on to express her hope that competent agencies from the two countries would continue to boost close ties moving forward, whilst enterprises effectively capitalize on advantages of the Comprehensive and Progressive Agreement for Trans-Pacific Partnership (CPTPP). This can serve to promote bilateral trade turnover as a contribution to boosting economic recovery as the world moves into the post-COVID period.
Luz Maria affirmed that the Mexican Secretariat of Economy will create all possible favourable conditions and provide maximum support for the bilateral business community.
In response, Deputy Minister Hai emphasised that the Vietnam - Mexico Business Forum 2022 aims to provide firms from both sides with information regarding the situation of each country in the post-pandemic period, particularly in relation to economic recovery, whilst reviewing and updating incentive policies. The function also provides analysis, assessments, and solutions to help Vietnamese and Mexican businesses outline strategies as they approach each other's markets, in addition to making the most of existing incentives and exploiting inherent potential moving forward.
The Deputy Minister assessed that, on the basis of the sound traditional friendship and huge co-operation potential, the two sides are becoming increasingly closer as they seek means to further expand and develop comprehensive co-operation in general, especially in the fields of economics, trade, and investment.
At present, the Vietnam-Mexico relationship has great opportunities that should be grasped, as well as challenges which need to be overcome in order to record stronger growth in the time ahead, he went on to say.
Mexico is currently the country's second largest trading partner in Latin America, while the nation is Mexico's eighth largest trading partner in Southeast Asia.
According to statistics compiled by the General Department of Vietnam Customs, last year's bilateral trade turnover enjoyed positive growth, reaching US$5.06 billion, up 37.5% compared to 2020. In line with this, the initial five months of the year saw mutual trade continue to achieve impressive growth, with a value of US$2.33 billion and a growth rate of 21.9%.
Both countries are effectively maintaining the mechanism of the Joint Committee for Economic, Trade and Investment Cooperation, a move which clearly demonstrates both nations' commitments and determination to bolster bilateral ties in a substantive and comprehensive manner across multiple fields, showing their sound traditional friendship.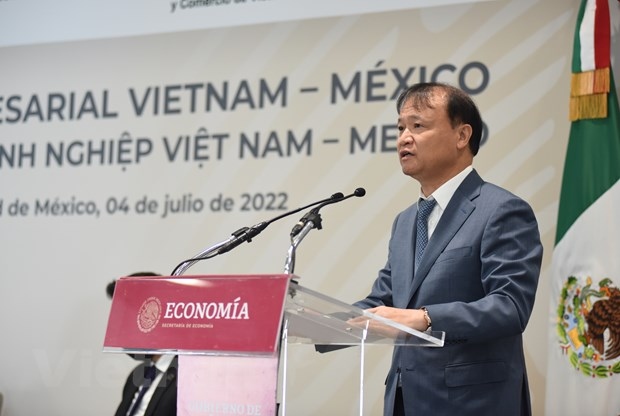 It is anticipated that in the coming time the two sides will continue to prioritise the implementation of measures aimed at maintaining and enhancing trade exchanges by taking full advantage of the incentives of the CPTPP Agreement, as well as diversifying the structure of imports and exports. Other measures include bolstering the export of products of each country's strengths and further facilitating the market opening process.
The country desires to further increase the value of trade and investment with Mexico, with a particular focus being placed on energy, telecommunications, high-tech agriculture, and high-value-added industries.
At the business to business (B2B) session held as part of the forum, enterprises had face-to-face meetings to establish information channels and learn about different sectors and areas of shared concern.
Nguyen Duc Hung, president of N.A Coffee Group, highlighted the forum as being an extremely useful activity which helps Vietnamese and Mexican businesses connect and ramp up co-operation towards improving trade exchanges and increasing bilateral turnover.
The nation is therefore ready to create the best possible conditions for key products originating from the North American nation, such as agricultural products and beef, to penetrate its market. Conversely, the Southeast Asian country is able to export rubber, equipment, and machinery to Mexico. This can be viewed as great potential for trade co-operation between the two countries moving forward.
This comes following Deputy Minister Hai holding a meeting with Luz Maria to review the results achieved at the third session of the Joint Committee for Economic Cooperation, Trade and Investment, during which the two sides discussed a score of measures aimed at boosting bilateral economic and trade relations in the future.