Vietnam emerges as winner from era of deglobalisation
Tuesday, 17:45, 27/09/2022
VOV.VN - UK media outlet the Economist has recently published an article highlighting huge advantages enjoyed by Vietnam in the era of deglobalisation.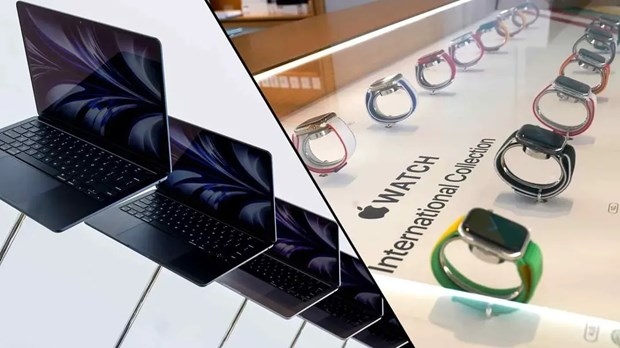 The article outlines that since 2000, Vietnamese GDP has grown at a faster rate than that of any other Asian country bar China, averaging 6.2% annually.
It has lured major foreign firms in droves, starting with apparel makers such as Nike and Adidas seeking low-skilled labour, before eventually booming into electronics and higher-value goods which create better-paid jobs for more highly-skilled workers.
In 2020, electronics made up 38% of the country's goods exports, up from 14% of a far smaller total back in 2010.
The Economist points out that the trade war between the US and China, which initially started in 2018 has been a factor behind this. In 2019 the country produced nearly half of the US$31 billion-worth of American imports that had moved from China to other low-cost Asian countries.
Apple's largest suppliers, Foxconn and Pegatron, which make Apple Watches, MacBooks, and other gadgets, are building big factories in Vietnam and look set to join the ranks of the country's largest employers. Other major names include Dell and HP, with a focus on laptops, Google, with a focus on phones, and Microsoft, with a focus on gaming consoles.
All of which could lead to stronger growth and make millions of Vietnamese people better off. Vietnam aims to become rich, with GDP per capita exceeding US$18,000 by 2045, up from the current US$2,800. It hopes to do this partly by moving away from cheap garments to complex electronics which require greater investment and more skilled labour, the article notes.
Furthermore, the country is an enthusiastic member of over a dozen free-trade agreements, giving it easier access to scores of international markets. With the recent COVID-19 outbreak bought under control, the government has eased domestic travel restrictions and reopened all borders to tourism and trade exchanges.
According to the article, Vietnam offers advantages in terms of geographical blessings, such as more than 3,000km of coastline, massive infrastructure spending on things such as new roads, and its electronics cluster operating profitably. 
However, there is much to be done if Vietnamese factories are to move farther up the value chain, says the article. Whilst foreign firms would love to buy more parts locally, which could be faster and more convenient than sourcing them from just over the border, they usually fail to find what they seek.
The article notes that Vietnam has many things working in its favour, including a young workforce. If Vietnam is to grow as rich as China, let alone Japan, the Republic of Korea, or Taiwan (China), then it will have to invest not just in infrastructure, but also in its people, the article concludes.