Vietnam, Egypt seek to promote post-COVID-19 trade exchange
Friday, 08:00, 01/10/2021
VOV.VN - Stepping up co-operation in industrial products and potential sectors between the and Egypt took centre stage at a recent trade promotion seminar held by the Vietnam Trade Office in Egypt.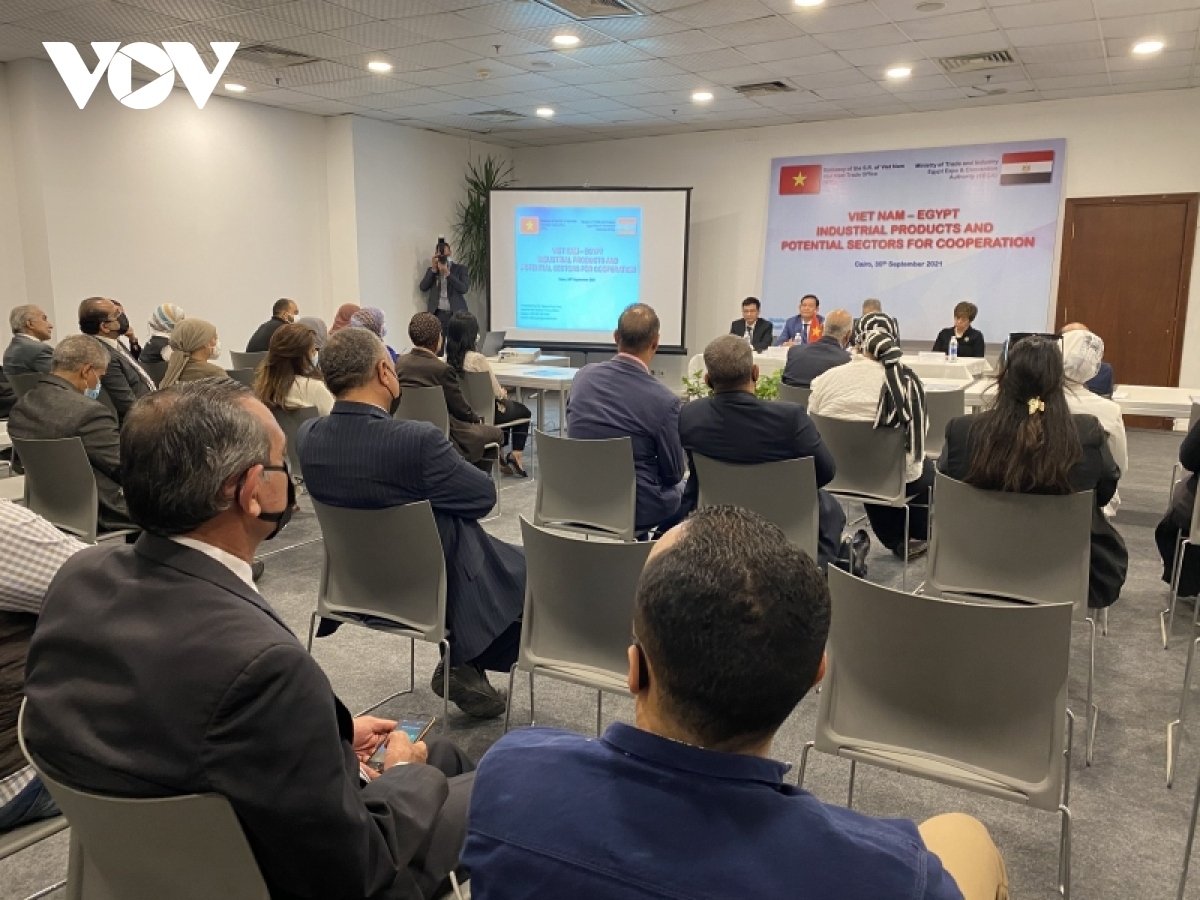 Those in attendance at the event included Vietnamese Ambassador to Egypt Tran Thanh Cong, Egyptian Deputy Minister of Industry and Trade Ibrahim ElSeginy, head of the General Organization for International Exhibition and Fairs (GOIEF) Mall Assal, alongside nearly 100 import and export Egyptian business representatives.
The special event taking place amid the ongoing spread of the COVID-19 pandemic is viewed as an important step to create momentum for the promotion of bilateral trade exchange between the two countries after the pandemic is brought under control globally.
According to business representatives, Vietnam- Egypt trade turnover of US$ 551 million in 2020 remained far below their potential and strengths.
In order to boost bilateral turnover, Egyptian businesses suggested that addition to traditional agricultural products, seafood, and garments, both nations should aim for high-value industrial products, cooperate on taxation and trade promotion, and participate in fairs and exhibitions.
Egyptian Deputy Minister of Industry and Trade Ibrahim ElSeginy said, Vietnam and Egypt have enjoyed a traditional historical relationship since 1963 and the two countries are witnessing a bright period of trade cooperation with bilateral trade value reaching more than US$500 million.
The figure is expected to grow in the near future when both countries have a joint trade committee as a means of removing obstacles in import and export activities, he added.
He went on to affirm his nation's readiness to welcome Vietnamese businesses who desire to invest across a variety of fields, a factor which is of great significance for the future development of bilateral relations between the two nations amid the current COVID-19 pandemic.
Nguyen Duy Hung, head of the Vietnam Trade Office in Egypt, therefore highlighted the seminar as a positive opportunity for Vietnamese businesses to grasp the need of the Egyptian market, in particular, along with the Middle East and Africa in general. This is in order to promote Vietnamese development potential and strengths and is a helpful activity aimed at promoting trade exchange as the economies gradually open up and recover from the COVID-19 pandemic, he said.
In order to have a significant breakthrough in Vietnam-Egypt trade, Hung underlined the need for Vietnamese enterprises to increase their engagement in meetings and exchanges with their Egyptian counterparts. This way they can gain a better understanding of Egypt's incentives for foreign investment, especially in the industrial sector, an area that the country has yet to explore.
Most notably, the seminar took place within the framework of the 54th Cairo International Fair, which represents the most important and largest event in both Egypt and the Middle East every year.
Despite being impacted by the spread of the pandemic, this year's fair still drew the participation of many countries, including Indonesia, Sri Lanka, Saudi Arabia, Vietnam, and Sudan.
The fair featured the participation of several major enterprises involving in food, clothing, furniture, electrical appliances, leather goods, mattresses, and chemicals, with the event aiming to stimulate trade and economic demand after COVID-19.