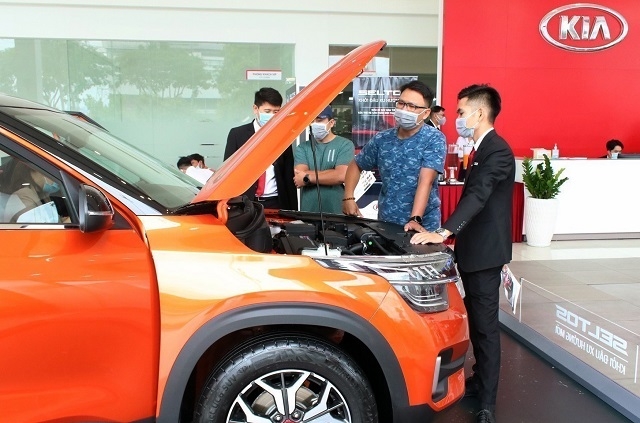 Despite various sales promotion programs from car dealerships, the domestic car market remains quiet ahead of the Tet festival.
To boost car sales, car dealerships have been offering sales promotion programs that go up to thousands of US dollars per car, or car accessories upon purchase.
For example, customers buying Hyundai Santa Fe would be subject to a discount of VND50-VND60 million (US$2,200-US$2,600), and VND12 million (US$522) for Hyundai Elantra.
Suzuki is also offering discounts for most of its car models in range of VND25-42 million (US$1,100-US$1,800), including Ertiga, Ciaz, XL7 and Swift.
Vice General Director of Nissan Tay Ho Nguyen Tri Bay said Nissan is lowering prices for pickup truck Navara by VND36 million (US$1,600) and extend its insurance period to five years, while the SUV X-Trail is subject to a discount of VND124-152 million (US$5,400-US$6,600), depending on certain models.
Mitsubishi is offering a competitive pricing policy with a discount of VND55-VND65 million (US$2,400-US$2,800) for Outlander, not to mention car accessories; Pajero Sport buyers would receive gifts worth up to VND55 million (US$2,400). Buyers of US automaker's latest model of Ford Everest 2021 are subject to  a promotion sales program with a financial support of up to VND75 million (US$3,200) in registration fee.
While discount programs are being offered, the number of car sales have plunged by 50% month-on-month in January, with many pointing to the expiration of the government's supporting policy by shaving 50% off the registration fee for domestically-produced cars at late 2020.
Director of Toyota Thang Long Pham Quoc Hien said the low sale volume was due to difficult economic conditions that are forcing customers to tighten spending.
"Many customers are also waiting for new car models that are scheduled to launch in the second half of 2021," he said.
For many car experts, the situation has been expected, given the COVID-19 situation remains serious around the globe.
"The year of 2021 is set to be another difficult one for Vietnam's car market," said Head of the Policy Department under Vietnam Automobile Manufacturers Association (VAMA) Nguyen Trung Hieu.