Vietnam becomes fifth largest economy in Southeast Asia: IMF
Friday, 07:00, 10/06/2022
VOV.VN - Vietnam's gross domestic product (GDP) reached approximately US$368 billion in 2021, making it the fifth-largest economy in Southeast Asia and 41st in the world, the International Monetary Fund (IMF) World Economic Outlook has revealed.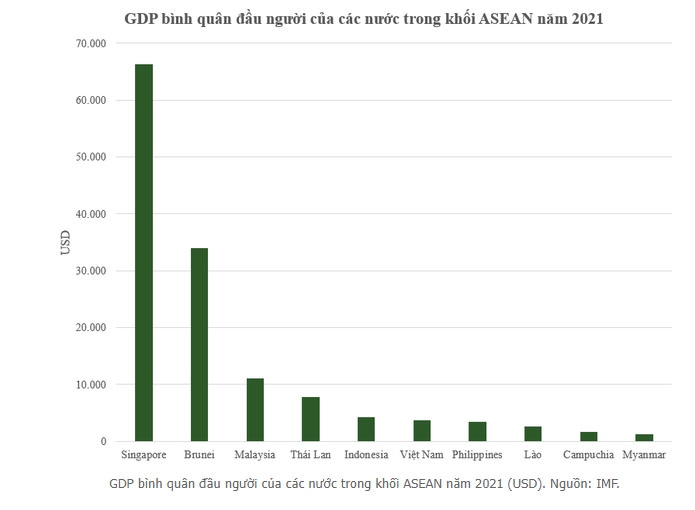 The United States took the lead with US$22,940 billion, followed by China with US$16,863 billion.
For GDP per capita, Vietnam secured US$3,743 per person ranking sixth in ASEAN and 124th in the world.
Globally, the top 10 countries with the largest GDP per capita are Luxembourg (US$131,302), Ireland (US$102,394), Switzerland (US$93,515), and Norway (US$8.244).
They were followed by the US (US$69,375), Iceland (US$102,394), Denmark (US$67,920), Singapore (US$66,263), Australia (US$62,619), and Qatar (US$61,791).
In Southeast Asia, Singapore ranked first with US$66,263 per person, followed by Brunei (US$33,979), Malaysia (US$11,125), Thailand (US$7,809), and Indonesia (US$4,225).
This year Vietnam has set targets of recording 6 - 6.5% GDP growth and raising its GDP per capita to US$3,900. It plans to raise the GDP per capita to between US$4,700 and US$5,000 by 2025 and US$7,500 by 2030.