Vietnam, Algeria share start-up experience
Monday, 07:36, 27/09/2021
VOV.VN - The Vietnamese Trade Counselor in Algeria has shared start-up experience and highlighted co-operation and investment opportunities at an international seminar on the topic of the Algerian economy with a vision aimed towards the year 2030.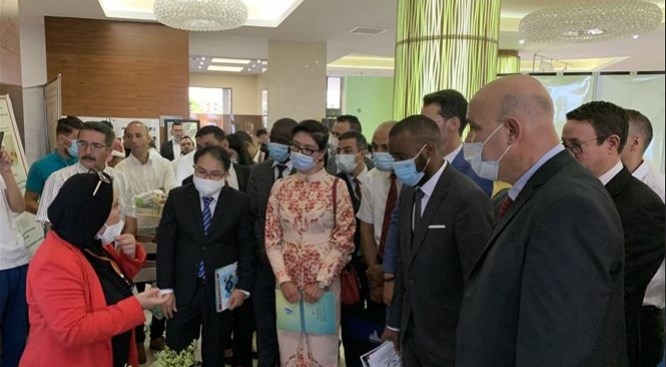 The two-day event was organised for the first time from September 25 to September 26 by the Algerian Youth Association in Skikda, a southern province in the North African country that boasts huge potential for mineral oil, agriculture, tourism, and seaport development.
The event served to attract a large number of representatives from the local administration and business leaders, along with those from several embassies and diplomatic missions based in Algeria including those from Poland, Uganda, and Zimbabwe.
According to Abdelmalek Benlaouar, president of the Algerian Youth Association, the seminar can be viewed as a prime opportunity for young Algerians to promote their entrepreneurship, thereby allowing the emergence of a new generation of entrepreneurs and leaders who are capable of achieving new market penetration.
Benlaouar went on to emphasise that the event drew many domestic and foreign investors involved in numerous start-up projects aimed at meeting the ambitions of young people, especially business owners who play a crucial role in boosting national production and exploring foreign markets. These efforts will therefore provide fresh impetus to the Algerian economy, especially in the post-COVID-19 period, he added.
Furthermore, the seminar offered Algeria the chance to seek and exploit foreign markets as a means of increasing the export of non-petroleum products through the signing of numerous trade and investment agreements.
As part of his speech, Hoang Duc Nhuan, the Vietnamese commercial counselor in Algeria, briefed participants on bilateral trade and investment relations between the two sides and shared experience and information regarding the startup situation locally. He also touched upon measures taken by the Vietnamese Government aimed at supporting young people and start-ups in innovation and creativity, especially in the fields of science and technology, e-commerce, media, and entertainment.
As part of this occasion, Nhuan also held a host of meetings with the head of the Department of Commerce, the president of the Chamber of Commerce, as well as business representatives of Skikda province in order to discuss co-operation and investment opportunities between the two countries moving forward.
Moreover, an exhibition introducing local and foreign information technology, electricity-electronics, farm produce, and traditional clothes also took place within the framework of the function.