Vietnam Airlines promotes Vietnam's tourism in Malaysia
Wednesday, 10:07, 20/07/2022
Vietnam Airlines' representative office Malaysia, in conjunction with travel companies Asia Companion Travel and Vietnam TravelMar, organised a tourism promotion workshop, themed "Exploring Vietnam with Vietnam Airlines", in Kuala Lumpur on July 19.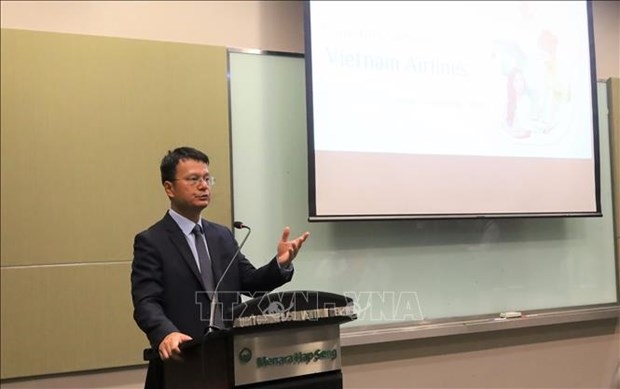 Addressing the event, Vietnamese Ambassador to Malaysia Tran Viet Thai said COVID-19-induced challenges showed the importance of reconnecting the strategic partnership between Vietnam and Malaysia, giving them new opportunities to further tighten their friendship, cooperation and mutual assistance.

The diplomat noted Vietnam Airlines' reopening of flights connecting Hanoi, Ho Chi Minh City of Vietnam to Kuala Lumpur and the upcoming Da Nang-Kuala Lumpur route reflected a strong post-pandemic recovery, particularly in tourism.

He hoped to see more Malaysian tourists visiting Vietnam, thus helping to beef up trade and people-to-people exchanges between the two nations.

Since mid-March this year, Vietnam has reopened its door and lifted quarantine measures, while Malaysia reopened its borders from the first day of April.

Head of the representative office, Hoang Minh Tri, said Vietnam Airlines has already reopened the Ho Chi Minh City - Kuala Lumpur route with a weekly frequency of 11 flights, which will be increased to 14 flights from October 30.

According to the official, flights between the Vietnamese central city of Da Nang and the Malaysian capital will be resumed in early September. There will be four flights per week at first and seven per week from October 30.

Also starting October 30, the carrier will resume its operation of three flights a week on the Hanoi – Kuala Lumpur route.

Many promotional programmes will be offered for Malaysian passengers, he added.

The workshop was part of a series of events run by the airline across the world for its resumption of international flights and tourism promotion.