Vibrant commodity market amid increased purchasing power ahead of Tet
Friday, 14:34, 20/01/2023
VOV.VN - Shopping activities are in full swing at commercial centres and supermarkets nationwide, with a diverse, rich, and abundant range of items on offer for the Lunar New Year, known locally as Tet.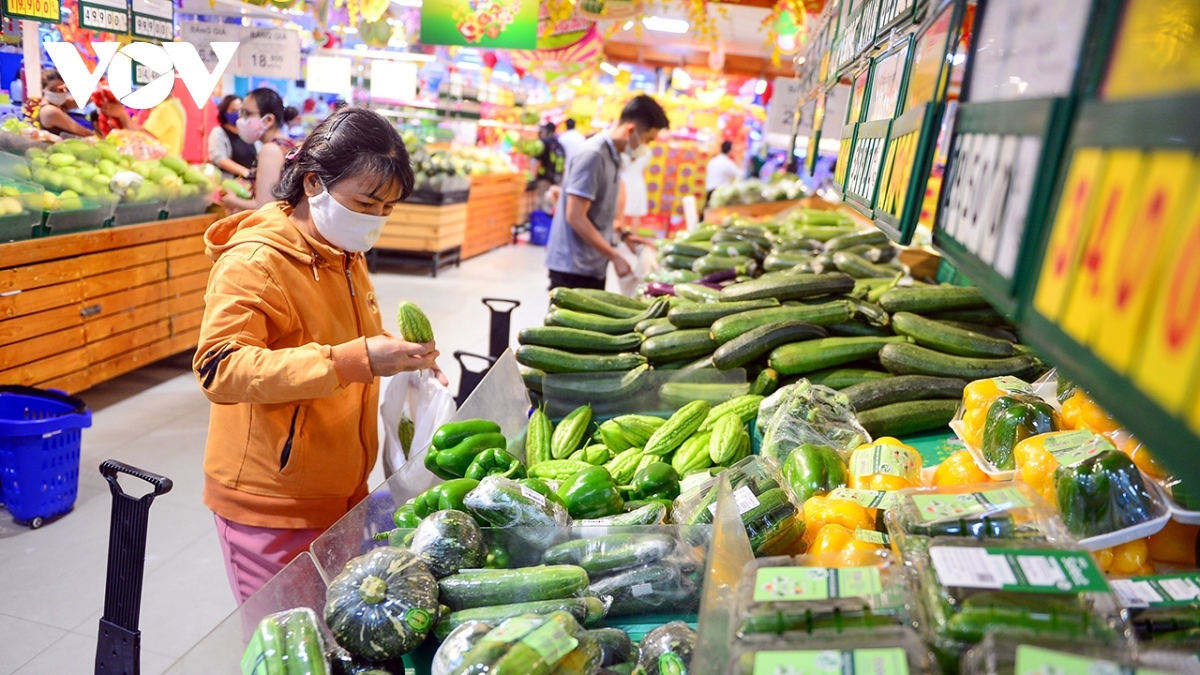 This is largely due to production and distribution businesses having fully prepared the source of goods a few months prior.
Surveys conducted at a number of large supermarkets in Hanoi such as Big C, BRG Mart, Co.op Mart, and Winmart show that essential goods for Tet have soared by 15% to 30% on average compared to the previous year.
Supermarkets always ensure strict control of the source of goods with clear origins that fully meet quality standards.
Statistics indicate that people's shopping demands have suddenly increased, with consumers mainly focusing on buying items such as green vegetables, meat, fish, and seafood. In addition, typical Tet items such as confectionery, drinks, and spring rolls have proven to be popular among many consumers.
With regard to the WinMart/WinMart+ system, in order to have enough goods to serve local people, the system has negotiated with major suppliers to increase the stock of Tet goods by 20% to 30%, thereby ensuring a diversified range of goods at stable prices before, during, and after Tet.
According to Nguyen Trong Tuan, director of the WinMart chain, the system has prepared the source of goods for the peak period, thereby launching promotional programmes offering attractive prices. In line with this, WinMart/WinMart+ expect both revenue and the number of customers shopping at the chain to be higher compared to the past.
Tran Thi Phuong Lan, acting director of the Hanoi Department of Industry and Trade, assessed that the overall quantity of goods of distribution units remains abundant and complete. In a bid to ensure the overall quality of goods, Hanoi will organise four interdisciplinary inspection teams aimed at supervising food safety.
Along with this, the municipal Steering Committee has also devised a plan aimed at conducting an inspection against smuggling and trade fraud in Hanoi to ensure that all sources of goods supplied to the Hanoi market are strictly controlled, thereby meeting the quality and safety of food.
"The issue of product quality must always come first. Goods from provinces and cities brought to Hanoi or imported goods must go through strict control stages," Lan emphasised.
In order to actively monitor the situation of supply and demand and market prices, the Ministry of Industry and Trade has directed domestic commercial enterprises to devise stockpiling plans to ensure the supply of essential goods for people at reasonable prices, she went on to say.
Le Viet Nga, deputy director of the Domestic Market Department under the Ministry of Industry and Trade, said she hopes that through the efforts of the Ministry of Industry and Trade in co-ordination with  provincial and municipal People's Committees, coupled with the price stabilisation scheme, consumers will be able to enjoy a warm and happy Tet.