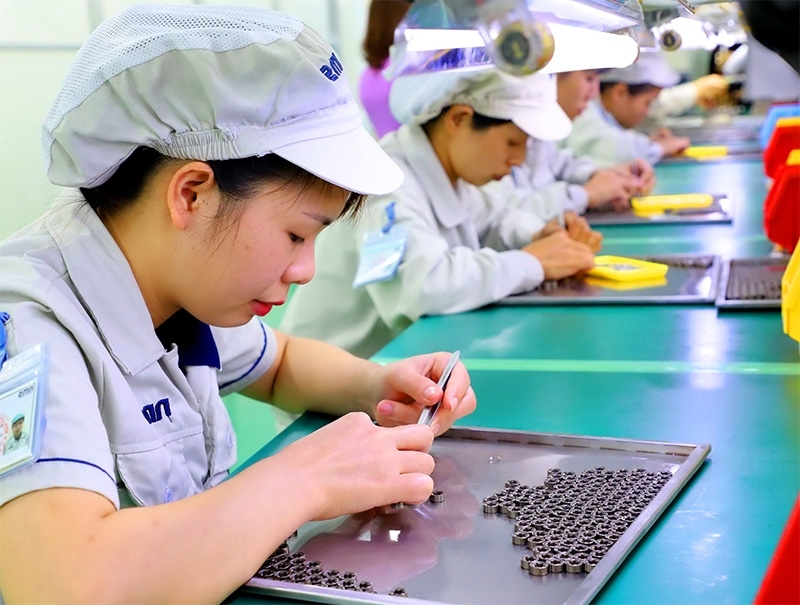 Vu Ba Phu, director general of the Ministry of Industry and Trade's Department of Trade Promotion noticed, "Japanese small- and medium-sized enterprises are increasing their investment in Vietnam," adding that they "mostly focus on localities outside of Hanoi and Ho Chi Minh City," unlike before.
According to a list published by the Japan External Trade Organization (JETRO) on July 23, only 15 companies are currently receiving support to expand their production in Vietnam, mainly in fields such as medical equipment, fabrics, and engine components. Meanwhile, enterprises from other sectors are not following suit.
COVID-19 exposed many shortcomings in Japan's supply chains. Vietnamese trade counsellor in Japan Ta Duc Minh pointed out, "The shortage of car components and spare parts from China has caused many of Japan's factories to halt production, such as in the cases of Nissan and Toyota. Additionally, some medical supplies, like face masks and antiseptic solutions, are becoming scarce."
Difficult withdrawal
According to Minh, a possible withdrawal from China and a relocation towards other countries could be very expensive, especially now. In addition to necessary administrative procedures – which already can consume much time and extra funds – businesses would suffer several extra costs, such as compensations for workers and partners in China, construction of new facilities, and most importantly, the disruption of production lines and revenue loss. Furthermore, "China could intervene and make any withdrawal even more complicated," Minh warned.
Nonetheless, Japanese businesses were the ones initiating the so-called China+1 wave, in which investors are choosing to supplement Chinese operations with low-cost inputs sourced from production facilities in other markets such as Vietnam, instead of abandoning China entirely.
Some experts argue that since they established the China+1 movement, no one would understand the risks that political uncertainties bring to their production and business activities better than Japanese enterprises. Dr. Pham Sy Thanh, director of the Mekong-China Strategic Studies Program argued, therefore, "The adjustments of large Japanese corporations will happen sooner or later as business considerations are much more important to them than political constraints – and smaller companies will follow the lead of these bigger ones." Thanh believed, "China is taking measures to retain foreign investors – both with public policies and tacit actions."
Since trade tensions with the United States escalated, China has issued several policies to "untie" foreign-invested enterprises, especially those active in modern service and high-tech industries. Nonetheless, the use of "administrative measures" to retain is entirely possible, as the issue not only relates to China's international prestige but also large capital flows that affect foreign currency reserves and exchange rates.
The essence of a fully-developed supply chain is the division of labour based on the advantages of each country. Thus, a "full retreat is not easy because we are talking about massive orders with large quantities that need to be fulfilled in a short time and at low cost – conditions that other countries are not ready to offer," Thanh concluded.
It comes as no surprise that China has become the "world's factory" since it offers the most complete, modern, and convenient infrastructure for large-scale production.
Catching the big ones
Vietnam is the first country to profit from the ongoing supply chain changes of Japanese businesses, announced Okabe Daisuke, Minister from the Japanese Embassy in Vietnam, at the online-held Vietnam-Japan Investment Promotion Conference in July. "Japanese businesses are interested in Vietnam as the country has made itself a safe investment destination after its successful handling of the pandemic," he said. "However, Vietnam needs to rebuild its economy after containing the disease, and no economic policy is as effective as the rapid implementation of public investment projects."
Thanh from Mekong-China Strategic Studies Program – who has studied China's economy for more than 10 years – advised that supply chain diversification should not be rigidly understood as a full move away from China. "Vietnam should be aware that there are many possibilities and ways for a multinational corporation to mitigate the risks that come with any country's change in policies towards China."
Replacing all supplies coming from China, Thanh argued, "is simply not possible." However, Vietnam can focus on a few specific industries and find its niche in those sectors that can easily move out of China. For instance, India has taken a position from which it can completely replace pharmaceutical raw materials and end products to supply for the US. Elsewhere, businesses in other countries are also finding alternative supply routes for specific input materials, especially for electronics.
"Large corporations have advantages over smaller ones as they can be more proactive in adjusting their supplies and operations. This means that throughout the ongoing transition, attention must be paid to these larger enterprises, in particular multinational ones," Thanh recommended.
Economic observers like Thanh identified some priorities among large corporations' views on supply chain arrangements. The major factor in this is the move from focusing on cost optimisation towards supply chain diversification. With this mindset – and the advantages of science and technology which enable new ways of internal organisation – major economic groups, like those from Japan, are increasingly looking towards proximity with consumer markets instead of cheap input sources.
In the process of Japanese supply chain restructuring, there are four possible "supply chain diversifications", corresponding to four groups of industries with different characteristics; namely to bring production activities either back to one's country or close to it (reshoring), chain diversification (diversification), a spread towards multiple regions (regionalisation), and chain scaling (replication).
Up to now, Japanese businesses invest mainly in reshoring moves, thus supply chains will be less fragmented and geographically dispersed. Amid these moves, automation also becomes an important factor as it reduces the need for labour and, in turn, the need for investment allocations abroad.
Such trends are likely to be seen in high-tech industries that are heavily involved in global supply chains, such as machinery, electronics, and the automotive sector. Japanese companies are more likely to follow up with a sustainable reshoring approach. With the remaining trends, this country's overseas investments would become less relevant.
As of August 20, Japan was Vietnam's second largest foreign investor, with the total registered capital of US$60.26 billion, according to Vietnam's Ministry of Planning and Investment.