Transparent business climate key to attracting German investors
Saturday, 10:30, 14/11/2020
VOV.VN - Despite German investors viewing Vietnam as a potential market and attractive investment destination, foreign direct investment (FDI) inflows from the European country have failed to meet expectations, according to insiders.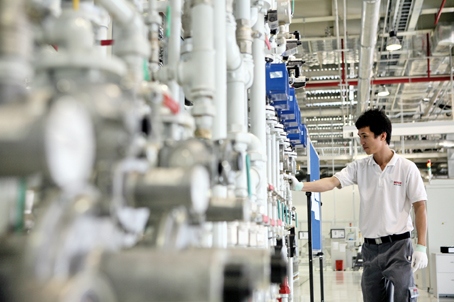 Economists attribute the current situation to unstable policies, an increase of trade barriers, inadequacies in legal corridors, and a general lack of transparency in the local business environment.
Until August, Germany had invested in 350 FDI projects capitalised at US$2 billion, ranking 18th among countries and territories investing in Vietnam.
At present, German projects largely focus on big localities such as Ho Chi Minh City, Hanoi capital, and Binh Duong province, with several popular brands such as Bosch and Ericsson.
Experts pointed out that despite not being large-scale projects, German FDI projects are of high quality, focusing on hi-tech spheres.
During the recent Vietnam-Germany Economic and Trade Forum 2020, Le Viet Thai, vice chairman of the Vietnam-Germany Friendship Association, underscored the importance of effective solutions by policy-makers in an effort to attract high-quality investment projects, especially coming from G7 countries.
Doan Hoang Minh, deputy director of the European Department under the Ministry of Foreign Affairs, said Germany, along with other European countries, have been hesitant to invest in Vietnam, but remain keen on injecting money into other markets such as China, Japan, and India.
Minh therefore attributed issues to the unclear nature of Vietnamese legal framework, poor infrastructure, coupled with an underdeveloped supporting industry.
Thai also noted other factors, including institutions, infrastructure, human resources, and non-official costs and unstable policies that serve to hinder German investment into the country.
Minh emphasised that it is anticipated that the enforcement of the EU-Vietnam Free Trade Agreement (EVFTA) and other FTAs will provide greater investment and trade opportunities for both countries moving forward.
Recent years have seen a number of German businesses enter the Vietnamese market to explore co-operative opportunities, while Germany's new laws offer plenty of opportunities for local workers to learn skills and gain better qualifications.
Representatives of some German enterprises said the Vietnamese Government should strive to create a level playing field for both domestic and foreign firms, with a focus placed on improving human resources by offer training schemes for businesses.
According to experts, a transparent business climate is key to attracting German businesses and helping them to grasp new regulations while setting out priorities in terms of their business plans.