Samsung expected to become talent nurturing centre in Vietnam: Deputy PM
Thursday, 20:15, 20/04/2023
The Samsung Group's effective operations have made important contributions to Vietnam's electronic industry and trade relations, Deputy Prime Minister Le Minh Khai said at a ceremony on April 20 marking the 10th founding anniversary of the Samsung Electronics Vietnam Thai Nguyen Co. Ltd. and receiving a third-class Labour Order.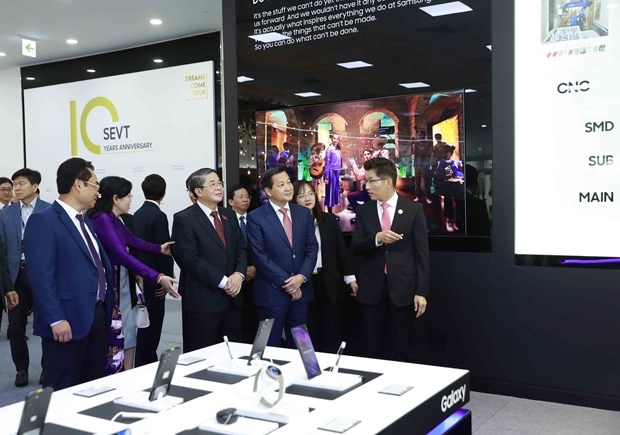 Khai hailed Samsung as the biggest Korean investor and the biggest foreign investor in Vietnam with total registered capital of nearly US$20 billion. So far, its capital in projects in Thai Nguyen province has neared US$7.5 billion, or about 73% of the total foreign direct investment in the province, he said.
Throughout its 10-year journey of operating in Vietnam, Samsung Vietnam Thai Nguyen has always been a leading manufacturer of mobile devices under the brand Samsung "made in Vietnam". It is also a unit with the largest revenue and contribution to the export turnover of the Samsung Group in Vietnam.
Last year, the company raked in US$28.3 billion in revenue and US$27.3 billion in export earnings, equivalent to 38.3% and 42.1% of the Samsung Group's total, respectively.
The Vietnamese Party, State and Government always create favourable conditions to attract domestic and foreign investors in the principle of "harmonising interests and sharing risks", accompany and ensure the legitimate rights and interests of investors, businesses and relevant partners, Khai said.
He suggested that the Samsung Group should continue expanding operations and consider Vietnam an important strategic global location for its overall growth, not only in terms of production but also in research and development of key products for export to the world, with the aim of becoming a talent nurturing centre in Vietnam, inventing and adopting the world's most advanced technologies.

The leader urged preparing necessary conditions for early trial production of semiconductor chip grid products, toward mass production from July 2023 at the Samsung plant in Thai Nguyen. It will be a good start for its closed-looped "production chain" in the electrical and electronic industries in Vietnam, he said.
On the occasion, the Deputy PM also asked the company to make it easier for domestic firms to join in its supply chain more deeply.
Taking note of the Samsung Group's suggestions regarding the global minimum corporate income tax starting from 2024, Khai said the Vietnamese Government vows to continue accompanying and promptly tackling obstacles faced by foreign investors, including Samsung, to do business effectively and grow sustainably in Vietnam.
General Director of Samsung Vietnam Choi Joo Ho said that thanks to comprehensive support of the Vietnamese Government and the provincial authorities, the unity of staff and suppliers, Samsung has overcome all obstacles and built the factory like today.

Reiterating many Vietnamese leaders' statement that "Samsung's success is Vietnam's own", Choi said Samsung will make every effort to become a business that goes hand in hand with Vietnam and a national enterprise that receives sentiments of the Vietnamese people.
He also expressed his hope for joint efforts to overcome all challenges on the path of the next decade and the future ahead.