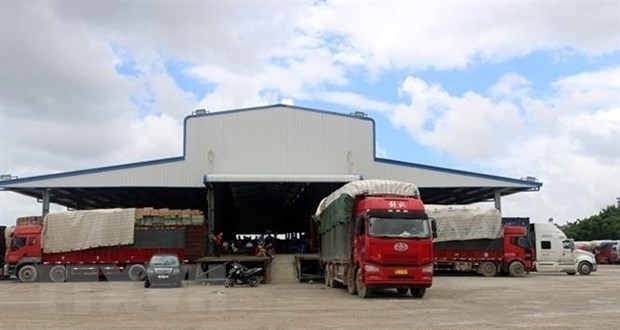 According to the Mong Cai International Border Gate Management Board, as of July 18, the total volume of commodities imported and exported through the border gate had reached more than 1 million tonnes, up 89.2% over the same period last year. The collected fees were totalled at more than VND34 billion (US$1.47 million), up 58% year-on-year and equal to 62.7% of the yearly target.

Specifically, the number of vehicles crossing Bac Luan bridge border gate reached 28,358, including 12,806 vehicles from the Vietnamese side and 15,552 from the Chinese side, and more than 470,000 tonnes of import and export goods were transported through the border gate, a year-on-year increase of 12.38%. Meanwhile, 24,817 vehicles carrying 608,334 tonnes of goods went through Hai Yen temporary pontoon bridge, an increase of 335% in the volume of goods over the same period of 2020.

Since the beginning of the year, authorities at the Mong Cai international border gate have carried out procedures for nearly 6,500 people entering and leaving Vietnam, of whom 1,876 were put under quarantine.

In order to create favourable conditions for the import and export of goods, Mong Cai city has organized quick tests for SARS-CoV-2 virus at the border gate for drivers and assistants of trucks carrying out imports and exports.

According to statistics, the city has taken samples to COVID-19 testing for 6,770 officers, soldiers and civil servants at border gates and businesses, transit drivers, vessel crew members, and long-distance drivers at the border gates.

Recently, Mong Cai has also completed COVID-19 vaccination for all residents in border areas, and workers in industrial zones to create a safe environment for economic development, especially border economic development.

Over the past years, the northern province of Quang Ninh has been working to gradually establish itself as a "gateway" for cross-border trade between Vietnam and China, thus contributing to bilateral economic ties.

Quang Ninh, which shares more than 118km of land border and 191km of sea border with China, is located at the start of the countries' "Two Corridors, One Belt" economic cooperation zone, in the Nanning - Singapore Economic Corridor, and the expanded Gulf of Tonkin inter-regional cooperation area under the ASEAN - China Free Trade Area.

In 2020, the value of goods traded through Quang Ninh's border gates approximated US$2.79 billion, including over US$1.11 billion in exports, US$980 million in imports, and US$695 million worth of items temporarily imported for re-export or stored in bonded warehouses.

Of the total figure, Mong Cai city posted over US$1.09 billion in exports, nearly US$1.04 billion in imports, and US$694 million of goods temporarily imported for re-export or stored in bonded warehouses. Hai Ha district recorded US$3.5 million in exports and US$4.5 million in imports, and Binh Lieu district had US$16.6 million in exports and US$65.9 million in imports.

On July 16, 2021, authorities of Quang Ninh and the Guangxi Zhuang Autonomous Region of China officially launched customs clearance through Bac Luan No 2 Bridge, which links Mong Cai International Border Gate of Vietnam with Dongxing Border Gate of China.

The two sides have also coordinated to complete infrastructure for Hoanh Mo - Dong Zhong border gate area so that this border gate pair will officially make debut in the near future.